Ethiopia - a destination crying out for new hotels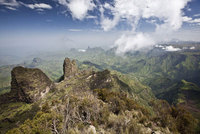 The increasing rate of inbound tourist arrivals and planned events/conferences is widening an already huge gap between demand for international-standard hotels and supply of accommodation in Addis Ababa, Ethiopia's capital. A search on Trip Advisor reveals just two international-class, five star hotels in the city, the Sheraton and the Radisson Blu - and anecdotes about delegates attending meetings at the Africa Union's headquarters having to travel up to 60 miles to find a bed for the night are not unknown.
According to research carried out by the Awash International Bank, the projected unsatisfied demand for hotel nights in Ethiopia in 2015 will be 1.3 million, rising to over 3 million by 2020 if new hotels are not built.
The accommodation shortage will be high on the agenda at The Africa Hotel Investment Forum (AHIF), Africa's top event for hotel investors, taking place at the end of September in Addis Ababa. Its organiser, Matthew Weihs, Managing Director, Bench Events, continued: "The country's overall growth and the continued progress in the tourism industry is forecast by the World Travel & Tourism Council to be 4.8% per annum over the coming decade. Increasing the supply of high-quality, top-end hotel accommodation through hotel construction is necessary for improved competitiveness and the economic success of the sector."
Currently, Ethiopia has only six internationally-branded hotels comprising 990 rooms, in the development pipeline, compared to 40 hotels (6,614 rooms) in Nigeria and 29 hotels (4,828 rooms) in Morocco.
"We'd be interested to look at more in Ethiopia," said Alex Kyriakidis, President, Middle East & Africa, Marriott International, who recently signed an agreement to manage two properties* in Addis Ababa owned by Sunshine Business plc. "However, choosing the right local partner is critical, because it gives an international brand the weight of developed market experience with local know-how on the ground. The partnership decision is more than just market experience though. It has to be a fit of business cultures and values, like-minded industry leadership thinking and – in the service industry – a similar commitment to flawless service and brand standards. It's been Marriott International's business model since the brand first launched in North Africa several years ago and it's served both the company and the countries well from a job creation, training and capital investment perspective."
Until recently Ethiopia was not considered to be very attractive to investors due to the relatively low number of tourists and planned events and conferences. However, this is changing as Ethiopia is growing at more than 7% per year and is forecast to be the third largest economy in Africa by 2015. Addis Ababa now has the fourth largest international diplomatic community in the world, partly due to the fact that it is the seat of the Africa Union, which was launched in 2002. Also, according to The African Development Bank, Africa's middle class is expected to grow from 355 million to 1.1 billion in the next 50 years and these people will have an appetite to travel.
Therefore, it seems that The Africa Hotel Investment Forum (AHIF) is happening at just the right time. Top-level international executives, investors, developers and high-level media will arrive on 29th Sept at the Sheraton Hotel, Addis Ababa, primed to take a closer look at the market and keen to develop it. Matthew Weihs concluded with a challenge: "At that moment, the expertise and the money will be in town; the question for me is: how and to what extent will the local community respond to this opportunity?"
Benyam Bisrat, Managing Director of Jupiter International Hotels and President of Addis Ababa Hotel Owners Association responded: "Addis Ababa as a destination has seen tremendous growth in past five years with an average of one new property opening per month. However, most of the growth has been coming from existing local operators and investors. Thus, we encourage the international branded hotels to come here and be part of this phenomenon."