New Virgin route opens up the Sunshine State to even more visitors amidst tourism boom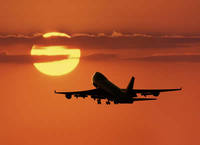 Florida is unquestionably one of the world's most popular holiday destinations, with tourists flocking to its shores for a signature blend of theme parks, championship golf courses, water parks and beaches. And now it is not only this wealth of attributes that are encouraging Northern Ireland holidaymakers to visit the Sunshine State, increased accessibility is today high on the list too.

Major player in the airline industry, Virgin Atlantic, have recently announced a new route that will see flights scheduled between Belfast International Airport and Orlando over June and July, linking Northern Ireland's largest city with Florida's top tourist hotspot. A spokesperson for the company also suggested positive ramifications for the establishment of the new route, commenting,

"We keep our flying programme under continuous review and if the new services are a success we could look to continue them in the future."

And with the seemingly hot tourism market in Florida at the moment, these new routes certainly seem to be on track for recording a great success. Recent figures have shown that Florida's unending popularity is actually on the increase, with last year a record year for the state's tourism: Visit Florida reported an increase of 3.5% in tourist numbers in 2013 compared with 2012, bringing the total to 94.7 million visitors. The aim for 2014 is to hit the magical 100 million tourists figure, through the increased access and a whole host of exciting new attractions.

Walt Disney World last month opened its newest attraction, the 'Seven Dwarfs Mine Train' in Fantasyland at the Magic Kingdom, a ride that will feature animated figures and music from the popular Disney film in a family-roller coaster, and also has big plans in the pipeline for 'Pandora: The Land of Avatar', set to open in 2017 amid much furore.

Universal Orlando Resort has followed suit this month with an expansion of the exceptionally popular 'Wizarding World of Harry Potter' from its current home at Islands of Adventure to its sister park of Universal Studios Florida, next door. The second site allows visitors to experience a virtual journey on the Hogwarts Express and an 'Escape from Gringotts' ride through darkened bank vaults. The new attraction also offers the chance to visit Diagon Alley and its popular shops that include the iconic Ollivanders Wand Shop, Weasleys' Wizard Wheezes and Borgin & Burkes, selling objects of dark magic. There is even be the opportunity to sup on a butter beer or two at the famous Leaky Cauldron!

Sure to be met with overwhelming popularity, the new theme park attractions are set to contribute, not only to Florida's increasing tourist figures, but also, in turn, to the US' financial recovery in more general terms. And this is something that is looking increasingly healthy. The Timetric 'Travel and Tourism in the US to 2017' report forecasts that real GDP in the country is to rise from 2.1% growth in 2013 to 3.0% in 2014 and thereafter by an average of 2.8% annually from 2015 to 2017.

Florida's increasing popularity is not only excellent news for flight operators and the country's coffers, it is also ideal for investors in the state's property sector. Both holiday accommodation and long-term rental accommodation are much in demand. As well as boasting impressive overnight visitor numbers, Florida is also the fourth most populous state in the US (after California, Texas and New York) according to data from the World Atlas.

Philip Button, Managing Director of specialist property investment firm Brookes & Co, which has been sourcing investment property in Florida for UK clients for the past decade, comments,

"Florida's huge population means that demand for rental accommodation is consistently strong. The changes to the property market over the past six to eight years have also meant that many people have moved from owner occupied accommodation to private rented sector properties. Clearly this creates plentiful opportunities for overseas investors looking to profit from the US market."

As with any foreign property investment, knowing what, where and when to buy is essential. Brookes & Co's knack for obtaining this knowledge and turning it into income for its clients has garnered the company an excellent reputation for its Florida opportunities.

The latest – a boutique offering of just 17 exclusive, fully tenanted condos, available from as little as $69,500 – comes at the optimum time for UK investors looking to put their money to work in property. Managed and maintained, with excellent long-term yields, the condos also benefit from the sterling's current strength against the dollar, which is at a five year high.

To find out more about the US property market, the tenanted condos and the other investments Brookes & Co can source, visit brookesandco.co.uk.