Best of British goes on show at Barons, Sandown Park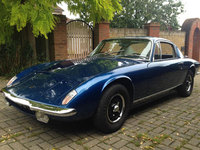 The real diversity of Britain's motoring heritage can be seen in the entries for Barons' annual British Heritage Sale at Sandown Park (September 2nd).
From regal limousines and sleek sports cars to smart saloon cars and that quintessential British 4x4, the Land Rover, and from concours condition to restoration project, there is something for British car fans, whatever their taste or budget. Some of the entries have fascinating histories – such as the Daimler that once enjoyed a heady career as the factory press car and advertising star before going on to feature on television, and the Rolls-Royce 20/25 that was owned by a Dominican Priory.
Great British sports cars
Classic British sports cars turn heads wherever they go, and you can't get much more classically British than MG, Lotus, Austin-Healey, Jaguar or Triumph, and Barons has some very fine examples of each.
MG is represented by a 1932 J2, a 1938 TA Midget and a 1962 MGB Roadster. The J2 road/racing car is a very rare beast, which came second in class in the 1934 JCC Brooklands Rally in the hands of its original owner, E. Hight. A University Motors car, it bore the registration MG 1986 from new (estimate: £42,000-£45,000). The TA Midget is a concours winner that has covered just 4,000 miles since 1977 (£23,000-£25,000), while the MGB Roadster, a rare and very early 'Pull Handle' example, is truly outstanding (£11,500-£13,000).
The beautiful 1967 Lotus Elan +2S has had just two former keepers and has been in the vendor's ownership for 30 years. It has not been used for the past 10 years but is ready to take to the road with a new owner and presents an opportunity to acquire a really superb example (£27,500-£31,000).
The 1964 Austin-Healey 3000 MkIII is very handsome and, having covered just 4,000 miles since undergoing a ground-up restoration that was completed in 2006, it is offered exceptional condition (£42,000-£48,000).
Barons always attracts a good number of Jaguars and this sale is no exception. Sporting 'big cats' lined up for Sandown Park include a 1954 XK120FHC, 1958 XK 150 DHC and 1972 E-type S3 FHC. All are from the Cheeseman Collection, with David Cheeseman having owned the E-type from new. Other Jaguar sports cars on offer include an excellent 1974 E-type S3 roadster that has been in the vendor's care for 29 years (£38,000-£42,000) and a Jaguar 'sports car' with a difference: a ¼ scale model of a Jaguar Racing Formula One car, one of just seven built (£4,500-£6,000).
The Triumphs in the sale include a 1965 TR4A in need of just a little TLC (£8,000-£9,000), and 1974 and 1978 Triumph Stags, the youngest of which comes from the collection of the late David Cheeseman.
Saloon cars, limousines, 4x4 – and a Mini Moke!
Rolls-Royce is, of course, renowned worldwide for its fine limousines and stately saloons. But the 1933 20/25 Sports Saloon is a reminder that Rolls-Royces can also be rather lively. This particular example, with James Young Coachwork, was originally owned by a Mr William Wright of Ludham Hall, Norfolk, and subsequent owners included the Dominican Council of St. Dominic's Priory, London, who acquired the motor car in 1954 (£37,500-£45,000). A rather different machine is the 1972 Silver Shadow 'stretch' limo, with 88 inches added to the chassis! Once the property of a foreign royal family, it is now in need of a degree of restoration but, with cocktail cabinet, TV cabinet and champagne holder, and enough interior space to hold an intimate cocktail party, it would make an excellent addition to a limousine fleet (£5,000-£7,000).
Jaguar and Daimler saloon cars are hugely collectable, and there is plenty for collectors to choose from at Barons, including one particular lot which played a major part in 'spreading the word' about the marque. J198 TAC, the 1992 4.0 Daimler Sovereign, is said to be the sister to the famous, experimental prototype XJ40 estate car, J199 TAC. J198 TAC was originally registered to Jaguar Cars at Browns Lane, Coventry, and was used for press demonstrations and advertisements. It later appeared in the television series 'The Bill' before being barn stored. Now in need of some recommissioning, it carries an estimate of £900-£1,500.
The 1966 Jaguar S-type from the Cheeseman collection is a restoration project, offered at no reserve, while, in contrast, the other 1966 S-type in the sale is in immaculate condition, and carries an estimate of £12,000-£14,000.
There is also a number of variants of the XJ6 in the sale, including a superb 1973 S2 4.2 SWB (£8,500-£10,000) and an outstanding, two-owner from new, 1970 XJ6 S1 4.2 which comes from the Cheeseman Collection (£4,500-£5,500).
Land Rover's dominance of the 4x4 market has its roots in the Series One, and the 1956 88" example at Barons is sure to find favour with collectors (£5,000-£7,000), as is the Mini Moke. Moke production may have moved to Australia and then on to Portugal, but the original, British-built models are much sought-after. The BMC Mini Moke on offer at Barons was made in Britain in 1965 and put into dry storage in 1992 before being taken out for full restoration in 2011/12. The estimate for this splendid little machine is £13,000-£15,000.
For further information, or to consign a car to the sale, visit barons-auctions.com.