Get more for your money in sunny Algarve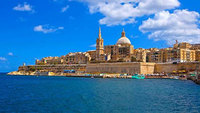 Planning a last minute summer getaway? With the help of travel search engine, KAYAK, you can find a package holiday, which will make your money go further. Whether it is sunning yourself on a European beach, wandering around one of Europe's beautiful cities or even going a little further afield.
The travel search engine found that UK tourists on a strict budget should book package holidays to the Portuguese Algarve (£458) or the idyllic island of Malta (£520). Whilst those who are wanting to travel to Dubrovnik (£693) and Crete (£699) will have to dig a little deeper into their pockets.
Those that aren't a fan of the sea and sand can still visit the bright lights of a foreign city, whether it is a package holiday to see the cobbled streets of Amsterdam (£510) or the cosmopolitan city of Barcelona (£538). Other European cities such as Rome (£565) and Istanbul (£589) only cost marginally more.
If you don't consider it a holiday unless you are outside Europe KAYAK has found great packages for long haul destinations. An average Dubai package comes to £762, whereas a trip across the Atlantic is more costly, whether it is hitting the shops of New York City (£1,203), or making a stir on the poker tables of Las Vegas.
Annie Wilson UK Managing Director of KAYAK commented "Booking holidays is becoming more fast paced and immediate, tourists generally research costs and availability during their lunch break or while travelling from A to B, so they would like to be able see the whole holiday with the full cost with one click. To meet searching needs for holidays, at KAYAK we have a function for Flight + Hotel and City Breaks, as well as a function for flights and hotels. At KAYAK we pride ourselves on giving consumers the tools for smart travel, so they can make the best decision when it comes to booking holidays."