Adelaide's 20 Best Bars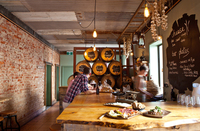 Adelaide is raising the bar in hospitality with a surge of new venues popping up across South Australia's vibrant capital city, from bijou wine bars in previously forgotten alleyways to contemporary cocktail clubs in stylish basement digs. Here are 20 of the best: Best for wine & nibbles:
Cantina Sociale, 108 Sturt Street, serves wine by boutique producers from the barrel accompanied by tapas, and a philosophy of offering a place where friends can gather to drink great quality wine, nibble a snack and solve the world's problems.
Interesting wine choices define funky Giallo Wine Bar, 37-39 Rundle Street, in the Kent Town district. The bar is connected to an art gallery, ideal for pondering a purchase over a bottle of wine and a Mediterranean influenced share platter.
Cork Wine Café, 61a Gouger Street, is a tiny wine bar located directly across from the Central Market, specialising in organic, biodynamic and natural wines. All the wines on the regularly changing list are hand selected and rare; this is often the only place to taste them in South Australia. Food takes the form of small plated snacks including Rillettes, pâté and charcuterie.
Apothecary 1878, 118 Hindley Street, is located in a heritage listed building in the heart of Adelaide's West End district, a stylish wine bar delivering top notch "dining and imbibing".
Udaberri Pintxos y Vino, 11 Leigh Street, serves authentic Basque snacks alongside an eclectic drinks list.
La Moka, 17 Peel Street, is a blink-and-you'll-miss-it Italian cafe. Owner Manuel Francesconi has taken inspiration from Italy's many eateries that work as cafes by day and bars by night. Francesconi, who moved to Adelaide from Bologna in 2006, has brought the Italian tradition of "aperitivo" to the table, a complementary platter served with wine. Expect Italian and South Australian wines, imported and local beers and Campari-based cocktails. It's also the best place to find a late night coffee.
Mother Vine, 22-26 Vardon Avenue, is a new wine bar from the owners of East End Cellars, one of Australia's leading premium wine retailers. There's a less-is-more approach to the décor, a dark clean look with black tiles and concrete. Grape lovers can flex their palate while beginners won't feel out of place either.
From the same East End Cellars stable, the Tasting Room at 22 Vardon Avenue is a great place for an after-work meeting, cheeky lunch time tipple, or to start a night out. They feature a South Australian winery every week and have the winemaker in-store each Friday to talk guests through the drop.
Proof at 9 Anster Street features an extensive wine list and an amazing gourmet food menu. The dim lights provide an old-school charm, while the gold ceiling and stylish decor are simply stunning.
Publishers on the corner of Franklin and Cannon Street is both restaurant and wine bar with Executive Chef Daniel Brooks serving elegant rustic food, blending nostalgic flavours with new, inspired dishes. Whilst Sommelier Patrick White brings a respectful and accessible museum selection of mature premium wines and craft beers
Best for cocktails:
La Bohème, 36 Grote Street, lays claim to being Adelaide's premier cocktail and cabaret bar, styled as a turn of the century Parisian Salon de Cocktail.
Botanic Bar, 310 North Terrace, is the spot for cocktails, fine wine, boutique beer and tasty Thai food.
For classy cocktails, head to Apple Bar, 5-9 Synagogue Place, a stylish haven located in a former heritage listed synagogue in the heart of Adelaide's bustling East End with a reputation as the place to see and be seen. Boasting three sleek bars and two dance floors, this lush late-night venue combines ultra-exclusive lounge with high-energy nightclub.
Best after dark:
Maybe Mae, Basement, 15 Peel Street, takes the description 'a hole in the wall' to another level, with entry via a camouflaged, wood-panelled door. This cosy bar has the tunes, the green leather booths and the acoustics for curling up and settling in, oozing with a sexy '50s vibe. The bar list has fun, voluminous cocktails and Krug alongside cans of Adelaide's Southwark Bitter.
Clever Little Tailor, 19 Peel Street, is the epitome of hipster cool, a groovy basement bar serving "quality liquor" and delicious bar snack food.
Kaffana, 23 Peel Street, fits in with all its cool neighbours with its exposed bricks and blue-lit circular bar. The difference here is its genuine Serbian hospitality, with brothers Peter and Nick Vajic running the show and their mother making traditional meals in the kitchen. The drinks menu has 27 different varieties of the traditional Serbian plum brandy slivovitz and six types of Serbian beer.
Bank Street Social, 27 Bank Street, is a polished underground bar with a vintage industrial feel reminiscent of a New York nightspot, teaming exposed pipes and bricks with soft Chesterfields and lighting. There's a dance floor for the adventurous and low open booths for those who want to sit and socialise, while the bar is crammed with local wines, beers and spirits.
Mexican theme bar and club, Tijuana Showgirls, 9 Hindley Street, is jumping from 9pm with the city's beautiful 20 somethings.
Ancient World, 116a Hindley Street, is a bar and multi-arts venue which opened after a successful test-run as an Adelaide Fringe venue. Run by nutrition scientist David Apps and sleep technician Brad Cameron, the venue has a drinks menu as locally sourced and ethical as possible, including vodka and whiskey from Tasmania. Here you can dance to experimental/electronic music, write on the bathroom walls (it's encouraged, there are markers) chill outside in the courtyard or sit in the candlelit room next to the bar.
Boasting the biggest rooftop bar in Adelaide, Gallery on Waymouth at 30 Waymouth Street, offers a touch of after dark sophistication, perfect for balmy summer evenings.
For more information, visit uksouthaustralia.com.