Rolls-Royce Wraith selected by Labrinth for latest music video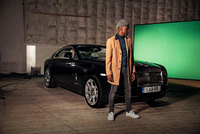 Labrinth, one of the UK's leading singer-songwriters, has selected a Rolls-Royce Wraith to feature in the music video for his upcoming single Let it Be. The video tracks Labrinth's creative process through a series of short vignettes that showcase his creativity, work ethic and attention-to-detail.
"The video is about applying your own experience and personality into the creation of an ideal. As well as hard work, by adding a touch of creativity, you can create something truly unique," commented Labrinth.
These sentiments echo the unique scope for Bespoke personalisation afforded to Wraith customers – where it is possible to work in close-collaboration with Rolls-Royce's world-class designers and craftspeople to commission highly individualised expressions of their tastes and lifestyles. Adding a 'touch of creativity' far beyond the traditional features and options list.
"Wraith's unique blend of power, style and drama has seen Rolls-Royce enter the consciousness of a bold, new generation of customers. Collaborations with cutting-edge artists like Labrinth serve to cast Wraith as a highly contemporary interpretation of timeless Rolls-Royce luxury," said Marc Mielau, General Manager Marketing. "Our attention-to-detail and restless striving for perfection ensure Rolls-Royce's unquestionable position as the pinnacle of luxury and the ultimate expression of success."
Labrinth's single Let it Be is available to view globally across broadcast and online channels. His highly-anticipated new album is set for launch in December 2014.