Original examples of Ford's GT40 are now mega valuable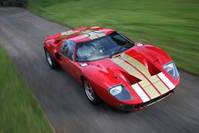 Hard though it may be to believe, Ford's iconic GT40 is currently celebrating its 50th birthday and, with values of the original 130-plus cars heading ever skywards, the opportunity to own one would seem to have passed most of us by. But help is at hand, for Le Mans Coupes Ltd is the UK agent for the unique Superformance continuation cars – contemporary GT40s so accurate that over 70 percent of the parts are interchangeable with those of the original examples; not least the all-steel monocoque chassis and famous sandwich roof.
Licensed by Safir GT40 Spares LLC of Ohio, the Superformance cars carry genuine GT40-P continuation chassis numbers that are recognised by the Shelby American World Registry. Each GT40 is lovingly hand-built to order by Hi Tech - operating from ultra-modern 270,000 sq ft premises in Port Elizabeth, South Africa, the company's 600 highly-skilled employees produce the GT40 alongside examples of the CSX9000 Series Shelby Daytona Cobra and evocations of the Shelby Cobra MKII and III (all of which are also available from Le Mans Coupe Ltd).
The GT40s are offered in the guise of the original Ford MKI and II cars and available in either left or righthand drive form. There is the choice of Roush-built Ford V8s of 5.6 (342ci), 6.6 (402ci) or 7.0 litre (427ci) capacity, with outputs ranging from 430 to a very substantial 560bhp. In each case, power is directed to the road via the choice of ZF RBT or Quaife RFQ transaxle. Depending on the engine selected, performance is in the realms of 0-60mph in 3.7 seconds and a top speed of over 205mph.
Familiar hallmarks
GT40 aficionados will feel instantly at home with the Superformance cars and recognise such hallmarks as the Monza-style fuel cap, 'bundle of snakes' exhaust system and Hartwell body latches. One welcome departure from original, however, is the inclusion of air conditioning as standard, while for added convenience and security the cars come with a detachable steering wheel. There is the choice of a sill-mounted, rod-operated gearchange as original, or a centrally-placed cable-operated system. Other options include a wide body for the MKI (as per the 1969 Gulf cars), 'Gurney bubble' to accommodate the taller drivers, and canard fins for additional front-end downforce.
Unlike the original chassis, which were not built with longevity in mind, those of the Superformance GT40s are made from ZE 50/50 electro-galvanized steel and therefore infinitely more corrosion resistant. Constructed from 244 laser-cut parts, they boast an outstanding torsional stiffness of 12,000 pounds per degree.
Prices for the Superformance continuation GT40s start from £98,500 plus VAT. For further details log onto superformanceuk.com.