Healthy fine dining eating options with Boutique Hotel Vivenda Miranda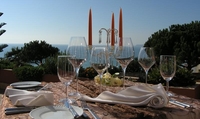 The Mirandus Restaurant, located within Boutique Hotel Vivenda Miranda is the essential place to visit when in Lagos in the Algarve, for those that enjoy superb food in a beautiful and romantic setting, whether as a guest or visitor. Enjoying stunning panoramic views over the Atlantic Ocean and surrounded by lush gardens, it occupies a unique location nestling peacefully upon the dramatic cliffs above the pretty Porto de Mós beach. With a it's spacious outside terrace and glass fronted dining room where the vistas can be enjoyed in all seasons it elegantly reflects warmth and style providing the perfect location for a special dining experience.
At Vivenda Miranda, health and wellness has long been the philosophy and with the recent addition of two skilled new chefs to the kitchen team, that philosophy has been enhanced. Great nutrition is a key factor in wellness so now, the popular fine dining menu has been extended to better serve the tastes and requirements of all guests by offering a comprehensive, fully balanced, nutritious selection of delicious organic vegetarian, vegan and dishes that cater to all dietary needs and delight every palate!
Since spring, Mirandus Restaurant has been working with local certified organic farm Quinta Seis Marias to ensure that even more organic, seasonal and nutritious produce is used as the foundation to their dishes which provides better taste sensations and healthy eating options.
Besides the vegetarian and vegan additions to the delicious new á la carte menu, the changing daily degustation menu also offers these options, as well as the usual gourmet flavours. Enjoy delights such as a starter of pea cakes on yellow bell pepper puree with radicchio vinaigrette followed by a main of free range chicken on beetroot risotto with sautéed broccoli in roasted almond butter and fine herb jus. Finish with a delicious dessert of dark chocolate mousse with avocado, dates and toasted cashews or an orange salad marinated in spiced syrup with mandarin sorbet and fig cheese! Just go to www.vivendamiranda.com/uk/restaurants to view the full menus and let your taste buds run wild!
The Vivenda Miranda also will be hosting a Raw Food Vitality Week from 18-25th October 2014 under the expert tuition and coaching of Gabriela Lerner, founder of Radiant on Raw www.radiantonraw.co.uk qualified health coach and raw food educator and writer. This retreat offers a unique raw food experience that allows you to unwind, recharge and nourish yourself both inside and out. Here you will learn how to prepare and eat indulgent, delicious raw food and go home feeling light and radiant.
So, whether you want to enjoy the á la carte or set five or seven course menus, enjoy a light lunch or celebrate a special occasion, this is definitely the place for foodies or anyone who enjoys spending special moments with friends or family.
For further details about Vivenda Miranda or to make a reservation, go to vivendamiranda.com/uk/home.