New Ford Focus: Advanced technology, fine craftsmanship and improved efficiency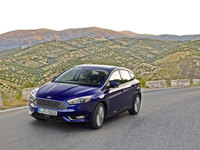 The new Ford Focus elevates the world's best-selling nameplate with a bolder, more emotive exterior design, a finely crafted, intuitive new interior, a suite of 18 new or improved driver assistance technologies and major fuel economy improvements.
On sale from November, the new Focus also debuts SYNC 2 in Europe, Ford's advanced in-car connectivity system, and offers a more powerful, yet frugal engine line-up, including new 1.5?litre EcoBoost petrol and TDCi diesel engines.
"We weren't satisfied with being number one; we wanted to make the best even better with a stunning new version of the Focus," said Stephen Odell, president of Ford of Europe, Middle East and Africa. "The new Ford Focus marries modern design, advanced technology and leading fuel efficiency with the fun-to-drive DNA for which Focus is rightly acclaimed."
Sophisticated design
Ford has crafted a more sophisticated and advanced Focus with a redesign to reflect the One Ford global design language.
Available in five -door and estate body styles, the new Focus has a lower, wider stance, with a new bonnet, front fascia and grille. The bonnet is sculpted with a dynamic shape from the front pillar to the corners of the upper part of the inverted trapezoidal grille to deliver a strong, proud look.
Slimmer, chiselled front headlamps and elongated fog-lamps add to the bolder front end. Subtle chrome details add to the feeling of elegance while the rear of the car also is sleeker with a new fascia and tailgate arrangement, as well as thinner tail lamps.
"The vision was to add more emotion to the design of Focus by incorporating our very latest 'face of Ford'," said Joel Piaskowski, director, Design, Ford of Europe. "The new Focus is more toned, and more athletic, with more refined surface language; and clearly offers a promise of the drive experience to come."
When redesigning the interior of the new Focus, Ford listened to customer feedback and responded with a more intuitive layout, complemented by a steering wheel and central stack with fewer controls and switches. The new black satin trim and chrome detailing contribute to a cleaner, more modern look.
The redesigned centre storage console offers more space as well as a new sliding, integrated armrest. The adjustable console accommodates a variety of bottles and cups with the capacity to hold a one-litre water bottle and a 0.4-litre cup simultaneously.
"We've responded to a clear customer desire for more simplicity inside the car, creating a clearer visual connection between the key components and significantly reducing the number of buttons in the cabin," Piaskowski said.
Fuel-efficient and fun-to-drive
The new Focus offers fuel efficiency improvements of up to 15 per cent compared with the current model, and a significant reduction in CO2 emissions across the range.
For the first half of 2014, one in three Focus models in Europe were sold with the 1.0?litre EcoBoost engine that this year was named the International Engine of the Year for an unprecedented third successive year.
New Focus also will continue to offer a 99 g/km CO2 100PS 1.0-litre EcoBoost petrol engine variant, the previous version of which earlier this year became the first non-hybrid petrol family car in Europe to achieve sub-100 g/km CO2 emissions.
The new Focus also will be offered with Ford's new fuel-efficient 1.5-litre EcoBoost petrol engine, available with 150PS and 182PS with a new six-speed automatic gearbox. When mated to the six-speed manual gearbox the engine will deliver a seven per cent fuel efficiency improvement compared with the outgoing 1.6-litre EcoBoost engine that offered equivalent power. In 2015 it also will be offered with a six-speed automatic transmission.
It will also be offered for the first time with Ford's 1.5-litre TDCi diesel, available with 95PS or 120PS, and a 10 per cent fuel efficiency improvement compared to the 1.6-litre engine it replaces. The 150PS 2.0-litre TDCi model with six-speed manual gearbox will deliver a 15 per cent improvement over the previous 140PS model.
With enhanced handling and steering, the new Focus takes the model's class-leading driving dynamics and acclaimed fun-to-drive DNA to a new level. Ford engineers have delivered a more solid, responsive and connected-to-the-road feel by increasing the structural stiffness at the front, revising the suspension geometry, increasing lateral stiffness of "steering-relevant" suspension bushes, and retuning the shock absorbers.
The Electric Power Assisted Steering has been retuned to make the driver feel even more connected to the road. Ford's industry-first Enhanced Transitional Stability system monitors vehicle speed and the driver's steering input to predict a loss of traction before it actually happens and triggers Electronic Stability Control sooner to enhance safety and help deliver smoother journeys.
The new Focus will also be available with paddle-shifters that enable drivers to control gear changes while keeping their hands on the steering wheel. Paddle-shift controls will be available as an option with all automatic and PowerShift transmissions, diesel and petrol.
The highly acclaimed driving experience is further refined with improvements to noise, vibration and harshness that help deliver best-in-class levels of interior quietness in Focus, and contribute to a more relaxing and stress-free environment. Among the changes that contribute to improved interior quietness are thicker carpets, thicker side window glass, and improved engine bay insulation.
Touch screen control with SYNC 2
The new Focus will be the first vehicle in Europe to offer SYNC 2, Ford's advanced connectivity system. SYNC 2 features a high-resolution, eight-inch colour touch screen and advanced voice control of audio, navigation, climate control and mobile phones.
SYNC 2's navigation system also offers for the first time in Europe a split-screen display with detailed intersections, spoken street names, 3D highway junction and landmark views, and the MICHELIN guide.
Drivers are able to issue simpler "one-shot" navigation destinations, and to ask the system to "play" a desired artist. Simply pushing the voice control button and saying "I'm hungry" will bring up a list of local restaurants, which you can then get directions to via the navigation system.
Advanced driving technologies
The new Focus is the first Ford to offer Perpendicular Parking, a new hands-free parking technology that helps drivers reverse into spaces alongside other cars.
The current Focus introduced Active Park Assist, the parallel parking aid that, at the push of a button, uses ultrasonic sensors to locate parking spaces and steer the vehicle while the driver controls the accelerator and brake. The addition of two new sensors to the rear of the new Focus enables Perpendicular Parking to operate in the same way.
The extra sensors also enable Ford to offer technologies for the time in Europe that help drivers as they manoeuvre out of parking spaces:
Cross Traffic Alert warns drivers reversing out of a parking space of vehicles that may soon be crossing behind them. Operating with radar at a range of up to 40 metres (131 feet), the system will issue three distinct warning signals if it detects a vehicle approaching from either side
Park-Out Assist helps drivers as they exit a parallel parking space. After the driver has chosen either the left or right hand side the system operates the steering while the driver operates the accelerator and brake
Ford also has improved its Active City Stop collision avoidance system, which uses sensors at the front of the vehicle to look for stationary objects in the road ahead and pre-charges the brakes if the vehicle is approaching an object too quickly. If the driver still does not respond, the system reduces engine torque and automatically applies the brakes to reduce the impact of collisions. Active City Stop now operates for the new Focus at speeds of up to 31mph, increased from 19mph.
In the case of moving objects Active Braking works in a similar way to Active City Stop but with a vehicle detection range of between 5mph (8km/h) and 112mph (180km/h). It supports drivers at higher speeds, for example on the motorway, by issuing warnings and applying braking as required.
Existing Adaptive Cruise Control technology enables Focus drivers to maintain a set distance from the vehicle ahead, even when that vehicle is travelling more slowly than the cruise speed. For occasions when Adaptive Cruise Control is not active, Ford is now introducing to Europe Distance Indication, which enables drivers to set a preferred distance they would like to maintain with the vehicle ahead. Should the driver get any closer, the system issues a three-stage dashboard display warning – from grey to yellow to red.
New Focus will also be equipped for the first time with Ford's MyKey technology. MyKey enables owners to programme a key – usually for younger drivers – that restricts the top speed, reduces the maximum volume of the audio system, and can disable it altogether if driver and passengers are not using safety belts. The system can prevent the driver from deactivating safety technologies.
Lighting the way
The improved Adaptive Front Lighting System now adjusts the beams of the new Bi-Xenon HID headlamps to best suit the road layout. The system assesses the ambient light surrounding the car, as well as objects in the road ahead and then adjusts the headlight beam angle and intensity to one of seven settings depending on the vehicle's speed, steering angle and distance to an object in front.
At high speeds, such as on a motorway, the headlights will be raised to project a longer, straighter beam for visibility further ahead; in towns where speeds are lower and street lighting more intense, the beam will spread out downwards to more intensely illuminate the road immediately ahead. When cornering at lower speeds, the system will project a beam towards the side of the road to make cyclists and pedestrians more visible. The system will support drivers cornering at higher speeds by directing light further into the bend.
The new Focus will continue to offer innovative features that drivers have come to appreciate and rely on, such as the industry-first Door Edge Protector, which provides a buffer against accidental damage by extending a protective flap that covers the door edges a split-second after the door is opened.
"New Focus offers a host of new and cutting-edge features and technologies, but at the same time this latest version has been refined and simplified," said Jim Baumbick, Ford's global medium car vehicle line director. "The sophisticated redesign has given Focus a new, fresh and modern style both inside and out, but the soul of Focus is the fun-to-drive feeling you get when you're behind the wheel, and we've not compromised on that – in fact, we've improved it."
Ford will also offer the new Focus ST, revealed at the Goodwood Festival of Speed which will be available for the first time with both a petrol and a diesel powertrain. The most advanced Focus ST yet offers new chassis control technologies, tuned suspension and steering, and bespoke tyre specification that ensure an even more responsive, balanced and refined driving experience.
Ford first launched the Focus in 1998 and since then more than 12 million have been sold worldwide, including 6.9 million in Europe – where Ford builds a new Focus every 90 seconds. To meet growing customer demand for Focus, which is sold in more than 140 markets, Ford has now ramped up capacity worldwide to build the car in eight plants on four continents. Factories in Germany, U.S., Russia, China, Thailand, Vietnam, Taiwan and Argentina have a combined capacity to produce more than 1.5 million Focus vehicles annually.