Wildfitness expand their transformative fitness holidays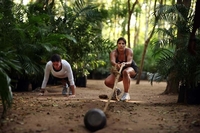 Wildfitness runs transformative fitness holidays designed to change a client's approach to fitness and their body shape. Located in some of the world's most stunning natural places, Wildfitness offers a complete programme of moving, eating and living that will wake up the body's athleticism, re-engage natural senses and unleash natural vitality. Wildfitness is a holistic approach to physical wellbeing based on the belief that nature and evolution are the most useful and upstream guides for how to be fit and healthy today.
The most tropical Wildfitness' destination yet is an exotic Indian Ocean gem with turquoise shallows, white sand bars and thick forest. On the southeast side of the island, nestled away from the bustling larger beaches, Michamvi Sunset Bay is a boutique tropical hide away on the breath-taking Chwaka bay. From this glorious base the Wildfitness playground will include the crystal blue waters of the Indian Ocean teeming with richly diverse marine life and the nearby Jozani forest - a tropical wonderland and designated area of conservation which is home to the endemic Red Colobus Monkey and other treasures.
The physical sessions on the course combine play, skill and intensity and are interspersed with workshops, massage and plenty of chill-out time. Wildfitness believes that humans like all animals, will heal and thrive in their natural environment. It is exercise at its most elemental & the philosophy is refreshingly simple and effective: move your body hard, fast and for short periods of time and eat a simple, natural diet as our ancestors did. Each day is different and participants will explore a variety of secret natural places; running up sand dunes, swimming across creeks, lifting logs on the beach, floating through mangroves or boxing in a coconut grove. Whether you're super fit or haven't exercised in years, the elite team of expert coaches at Wildfitness will encourage, support and challenge you until what you take home is a body capable of far more than you credited it, a reconnection with nature and a renewed sense of fun.
When not running up and down sand dunes, rooms at the Michamvi beckon invitingly. Gracefully decorated and filled with plenty of natural light each has its own private balcony overlooking the Indian Ocean and private gardens below. All meals will be sourced organically from the bounteous ecosystem of your immediate surroundings with plenty of fresh fish as well as delicious salads, fruits and coconuts from the surrounding trees and gardens. The on site spa offers beauty treatments and any extra massages that aching muscles may be craving (as a client you will receive 2 complimentary massages during your course).
Wildfitness holidays run from 3 days to 3 ½ weeks in length. Prices range from £690 to £7993. Courses run throughout the year with fixed dates and bespoke programmes.
For more information, visit wildfitness.com.