Non-EU flagged yachts free to charter in the Balearics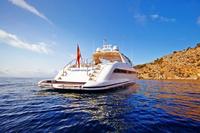 Until now, non-EU-flagged yachts were only permitted to sail around the Balearics but not to offer charter services. From September, this has changed, and there is a free market for all flags. 1989-established easyboats hopes this will generate extra nautical business for the Islands.

Lorenzo Vila, Director of Port Andratx-based easyboats, comments, "Although applicable to boats 14 metres (45 foot) upwards, this legislation is clearly targeted at superyachts, the sector most likely to be non-EU-flagged, and has some interesting terms and conditions. It states that a charter licence can be obtained provided there is a lack of available EU-flagged with similar characteristics. One would assume this is easily circumnavigated by bringing hull colour, interior décor, tenders and toys, and so on into the equation."
"However, the ruling also states that the yacht must comply with technical, legal, administrative and fiscal requirements," continues Lorenzo. "Fiscal is the key word here, the superyacht would have to have its taxes paid in-line with Spanish requirements. In light of this, I believe the legislation is only good news, and economically viable, for boats who decide to base themselves in the Balearics for a full season – not for those who want to dip in and out. It certainly won't make a great deal of difference to the pool of charter yachts available to easyboats."
Lorenzo finishes, "Combined with recent positive rulings on matriculation tax, it's clear that Spain is trying to make things easier for the nautical industry, however, it's too late for this season and it will take some time for us to feel the effects. Also, not even specialist nautical lawyers are completely certain of all the new rules, and many superyacht captains would still rather not take the risk – this could mean continuing to embark guests in France rather than Spain. This superyacht industry has a massive economic trickledown effect across the whole tourism sector, and Spain must wise up to that before the 2015 Mediterranean season gets underway."
The changes coincide with the release of the latest Spanish boat registration figures from ANEN, the national marine trade association. Overall there has been a 13.27% increase in boat registrations so far in 2014, up to the end of August, versus 2013. This represents 3,516 registrations, 412 more than the same period last year. The greatest growth was in the 16 metre plus sector with an increase of 47.83%. The Balearics dominate taking a massive 14.65% of the national market for recreational craft, with Barcelona claiming 11.75% and Cadiz 7.85%.
The Balearics are one of the most popular, and precious, destinations for the yachting world and account for 90% of charter services offered in Spain. A large number of superyachts use the Islands as a port of call in the summer season (147-metre Rising Sun, 147-metre Prince Abdulaziz, 115-metre Pelorus, 96-metre Limitless, 88-metre Musashi and 78-metre 'iYacht' Venus, to name but a few, have all passed through in 2014) with plenty more choose Palma as a refit location in the winter. The Balearics have some of the best bays, beaches, beach clubs and turquoise waters in the entire Med and are popular with 'normal' families through to A-List celebrities.
For further information on yacht charter, sales and management, visit easyboats.com.