Ford reveals all-new S-MAX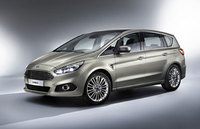 Ford has revealed the all-new Ford S?MAX, a stylish and innovative reinvention of the trend-setting seven-seat sports activity vehicle.
True to the spirit of the original version, the all-new S-MAX debuting across Europe next year offers style, driving pleasure and advanced features without sacrificing space, flexibility and fuel efficiency.
"S-MAX struck a chord with customers all over Europe – people who need space and practicality but who could never picture themselves in a typical family hauler," said Stephen Odell, Ford executive vice president, Europe, Middle East and Africa. "The all-new S-MAX takes this no-compromise ethos to new levels with a stunning design, cool technology and dynamic driving experience."
All-new S-MAX will debut Ford Adaptive Steering technology in Europe for optimised response to driver input when it goes on sale in 2015. Intelligent All-Wheel Drive and a range of sophisticated powertrains – including a new 1.5-litre EcoBoost petrol engine – will also ensure an enhanced driving experience.
S-MAX will be the first Ford globally to feature Ford Dynamic LED Headlamps with Glare-Free Highbeam that maintain maximum illumination without distracting other road users. Ford's advanced Pre-Collision Assist technology will assist in mitigating accidents even at motorway speeds.
From an Alpine ski trip to the school run, the all-new S-MAX will enable seven people to travel in comfort – with 32 seating and load-space combinations, as well as segment-first Easy-Fold second and third row seats.
More than 400,000 S-MAX models have found homes in Europe since Ford first carved out a new automotive niche – the sports activity vehicle – and won Car of the Year in 2007.
Game-changing design
The Ford design team evolved the fresh and distinctive exterior styling of the original S?MAX for an even more dynamic and upscale impression.
"The sleek and sporty S-MAX profile stands out from the crowd to deliver a unique proposition for customers who appreciate an exclusive appearance – whether for their car, their clothes, and even their home," said Joel Piaskowski, director, Design, Ford of Europe. "A lower roofline, slim-line lights and muscular haunches around the wheel arches ensure the all-new S-MAX appears wider, sharper, and has an even more distinctive presence than ever."
The sleeker styling makes economical use of graphic design features to avoid "visual noise". The front pillar is moved further back to create a longer, sculpted bonnet for a more premium appearance. A raised chrome trapezoidal grille and slim headlamp design give a technical and cutting-edge look.
The charismatic S-MAX silhouette and distinctive window-line is now even more desirable, complemented by signature LED Day Time Running Lights and technically styled rear LED taillights that add visual width. They are connected by a signature satin chrome strip. A rear diffuser separates integrated exhaust pipes for a modern, sporty feel.
Inside, a mature, sophisticated and dynamic feel includes a sculpted centre console that flows from the upper instrument panel; aluminium accent above the glovebox; and stadium style seating design for second and third row seating space. The open and airy interior benefits from a full-length panoramic glass roof and smart design seats with thinner seat backs to provide more legroom.
Soft-touch materials and accent stitching are used throughout the all-new S-MAX interior. Materials can resist the wear and tear delivered by active families through anti-stain coatings and durability testing including soil and coffee application.
Engineers even meticulously simulate the punishment interiors can receive from being snagged by zips and studs. A metal ball with needle-sharp spikes called a mace, just like the medieval weapon, is used to brush the fabrics 600 times.
"The all-new S-MAX interior offers a dynamic sanctuary. It calms occupants with more storage options to keep clutter at bay and reassures with modern, elegant design and refinement, but at the same time stimulates with padded materials and a driver-focused cockpit," said Hak Soo Ha, Ford interior design manager. "Driver confidence is also supported with an interior design that minimises window and mirror reflections for better visibility, and provides intuitive analogue controls."
Sitting comfortably
Available in five-seat and seven-seat configurations, the all-new S-MAX is optimised for comfort and functionality. The Easy-Fold system enables each rear seat to be folded flat from a push-button control panel. Easy-Entry second row seats provide one touch access to third row seating.
Finding the perfect temperature can now be achieved more quickly with the enhanced heating ventilation and air conditioning system that debuted in Europe with the all-new Ford Mondeo and provides more airflow, is capable of lower temperatures, and is quieter. Recognising that S?MAX rear passengers expect the same comfort as those in the front, Ford has ensured they can select their own climate settings with auxiliary controls and a dedicated climate system.
Additional sound-deadening materials, improved door seals, and magnetic mass damper technology built into the roof to counteract vibration, make for a quieter cabin, and the S-MAX features first-in-segment heated and cooled Ford Multi-Contour Seats that offer the Active Motion massage function.
"S-MAX will reduce fatigue, aches and pains for both the driver and front passenger by keeping muscles and blood vessels stimulated with the unique wave motion delivered by inflatable cushions within the seats" said Jeroen Lem, research engineer, vehicle interior technology, Ford of Europe. "The advanced system monitors pressure in the individual cushions to feel like a single roller subtly stretching the back, and two intensity settings can be selected from the central touchscreen."
Front-seat headrests can be adjusted up, down, forward and back, and drivers can tailor their seating position using segment-first power adjustment function for steering column reach and rake, and driver's seat memory function. A heated steering wheel is also offered on S-MAX for the first time.
Contours and firmness of the rear seats have been refined to deliver optimised comfort for rear seat passengers. The all-new S-MAX interior offers best-in-class solutions for accommodating the storage needs of occupants, with options including new covered stowage in the instrument panel top, a media storage area incorporated into the centre stack, and concealed under-floor stowage behind the third row seats.
Sixth sense technology
The all-new S-MAX uses camera, radar, and ultrasonic devices to deliver more than 16 remarkable driving technologies that help you drive and control your vehicle safely, including:
Pre-Collision Assist applies braking if a collision with another vehicle ahead is imminent – first sounding an alert and then displaying a warning onto the windscreen from 5mph up to the maximum speed
Adaptive LED headlamp technology employs Ford's Adaptive Front Lighting System to adjust the headlight beam angle to match the driving environment
Glare-Free Highbeam technology detects vehicles ahead, both on-coming and travelling in the same direction, and fades out light that could dazzle from the adaptive LED headlamp technology while retaining maximum illumination for other areas
The all-new S-MAX sensor technologies also make parking easier:
Perpendicular Parking can detect and reverse the car hands-free into spaces alongside other cars in the same way that Active Park Assist helps drivers to parallel park
Park-Out Assist helps drivers exit a parallel parking space, the system operating the steering while the driver operates the accelerator and brake
Side Parking Aid delivers audible alerts and on-screen distance indicators to obstacles around the vehicle
Cross Traffic Alert warns drivers reversing out of a parking space of vehicles that may soon be crossing behind them
Further driver assistance technologies offered with all-new S-MAX include Blind Spot Information System, Traffic Sign Recognition, Lane Keeping Alert, Lane Keeping Aid and Driver Alert.
All-new S-MAX also introduces Front Split View Camera technology to the segment, which makes negotiating junctions or parking spaces with restricted visibility easier through the use of a 180 degree camera system installed at the front of the vehicle. Adaptive Cruise Control technology uses forward-facing radar to enable S-MAX drivers to maintain a set distance from the vehicle ahead.
New Intelligent Speed Assist technology enhances the existing Adaptive Speed Limiter system that allows drivers to set a maximum speed, enabling it to adjust the vehicle speed limit according to information received from the Traffic Sign Recognition and onboard navigation systems.
"Speed limiting technology has proved incredibly popular with drivers who want to ensure they avoid incurring speeding fines by unintentionally exceeding the speed limit. Intelligent Speed Assist makes that even easier," said Stefan Kappes, active safety supervisor, Ford of Europe.
Advanced chassis technologies
All-new S-MAX debuts in Europe Ford's precise new Adaptive Front Steering that will make it a joy to negotiate twisty roads. The system optimises steering response, continually changing the ratio between the steering and road wheels according to vehicle speed. At lower speeds, such as when pulling into a parking space or manoeuvring in tight quarters, the new system makes the vehicle more agile and easier to turn. At higher speeds, it enables S-MAX to react more smoothly and precisely to driver input.
Ford's new integral link rear suspension helps enhance the nameplate's class-leading driving dynamics with a configuration that features reduced-weight aluminium components, provides more dynamic performance, and significantly improves refinement and ride quality – in particular for rear seat passengers.
Further technologies that improve the driving experience include:
Ford's Intelligent All-Wheel Drive that delivers superior road-holding and traction performance, offered for S-MAX for the first time
Torque Steer Compensation and Active Nibble Compensation that cancel out unwanted feedback, forces and vibration
Low emissions and high performance
The all-new S-MAX will enable quiet and effortless cruising with responsive new fuel-efficient diesel or EcoBoost petrol engines.
Diesel engine CO2 engine emissions will be reduced by an anticipated seven per cent, with options including a 120PS 2.0-litre TDCi with six-speed manual transmission and a revised 150PS and 180PS 2.0-litre TDCi with manual or PowerShift dual-clutch automatic transmission. The Active Thermal Management System improves warm-up times to reach peak efficiency faster and reduce CO2 emissions.
Petrol engine options including Ford's new fuel-efficient 160PS 1.5-litre EcoBoost with manual transmission and 240PS 2.0-litre EcoBoost with automatic transmission.
S-MAX CO2 emissions and fuel efficiency also are enhanced with Smart Regenerative Charging and Auto-Start-Stop. Underbody aerodynamic shielding and Active Grille Shutter technology have improved aerodynamic efficiency with performance optimised during 400 hours of wind tunnel testing.
Improved active and passive safety
S-MAX has been designed to help ensure you arrive at your destination not just relaxed, but also safe and sound. The body structure of the all-new S-MAX is three per cent stronger through the increased use of ultra-high strength steel, and offers additional active safety features that include, for the first time, second-row seat side-airbags.
Vehicle stability also is enhanced with Curve Control and Roll Stability Control systems that adjust engine torque and braking to help drivers maintain control.
MyKey technology will enable owners to programme a key –usually for younger drivers – that can inhibit incoming phone calls; restrict top speed; prevent deactivation of driver assistance and safety features; reduce audio system maximum volume, and disable the audio system altogether if occupants are not using safety belts.
Features that simplify your life
The traditional instrument cluster makes way for an optional driver-facing 10-inch digital screen with animated analogue-style speedometer and rev-counter. Users also can customise the display settings and 3D graphics on the digital screen for a personalised and interactive experience.
An 8-inch high-resolution touchscreen in the centre console enables drivers to control Ford SYNC 2 with Voice Control to operate phone, entertainment, climate and navigation systems using simple conversational language. Drivers can even bring up a list of local restaurants by saying: "I'm hungry".
SYNC 2 also features Emergency Assistance, which directly connects the vehicle occupants to local emergency services operators after an accident, in the correct language for the region.
S-MAX will for the first time be offered with the Hands-Free Tailgate that can be opened or closed using a kicking motion beneath the rear bumper. Half of new Ford Kuga customers opted for this feature last year after the model became the first mid-sized SUV in Europe to offer the technology.
"Developed without compromise to deliver a peerless combination of style, comfort, flexibility, efficiency and driving appeal, the all-new S-MAX is underpinned with innovative and in many cases unique technologies," said Andrew Kernahan, Ford S-MAX chief programme engineer. "This is a vehicle that looks and feels great in any situation and delivers for customers with the highest expectations."