Agent rebrands to form Go Global Student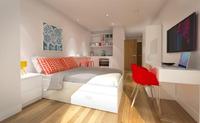 Established estate agent Go Global Investments has taken the bold move to rebrand as 'Go Global Student'. Having sold dozens of student housing units in the past 12 months, and with great faith in the sector going forward, its owners thought it wise to specialise.

Peter McDermott, Director of UK-based Go Global Student, says, "Like many agents we had student housing as an add-on, just one part of a multidisciplinary business, but it soon became our main focus and source of the majority of our income. By rebranding and concentrating on student accommodation alone, we hope to both stand out as specialists and better serve our clients. As a name 'Go Global Student' sends out a very clear message on the direction we're taking, and our completely new website reflects the same."
In its latest 'Spotlight on Student Housing', published in May 2014, Savills agreed that the sector had a strong future. Five billion pounds worth of standing stock and development sites were sold in 2012 and 2013, and the report estimates that there is a potential market for a further 290,000 beds across the country going forward – provided prices are attractive to the cost-conscious domestic market. Meanwhile UCAS applications for 2013/14 were up 3.6% and are up again at least 3% for 2014/15. The strongest growth is from non-EU overseas students, up 9.1%, with EU students up 5.1%. They will all need accommodation.
Peter continues, "The student housing investment market is still one of the fastest growing asset classes, and is likely to continue growing and become mainstream in the not-too-distant future. This is due to the severe undersupply of specialist student accommodation in most university cities which will take several years, at least, to reach equilibrium. Activity and assured yields - typically 7 to 9% net per annum for an entirely hands-free investment with 99%-plus tenancy rates - remain strong, and at Go Global Student we're excited for the future."
Prices from £54,950 (GBP) for a double en suite student room in the heart of a city that's home to a premier UK university.
For further information contact Go Global Student, visit goglobalstudent.com.