Gareth Malone to form All-Star Choir for official BBC Children in Need single 2014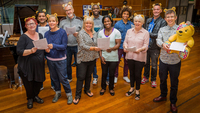 BBC Children in Need has announced that choirmaster Gareth Malone is to bring together an array of untrained voices from the world of television, sport and theatre, forming Gareth Malone's All-Star Choir, to release the official 2014 BBC Children in Need single.
Actresses Alison Steadman and Linda Robson will sing alongside EastEnders actor Nitin Ginatra and Strictly Come Dancing Queen of Mean, Craig Revel-Horwood. Also searching for their inner songbird are Countryfile's John Craven, Blue Peter's Radzi Chinyanganya, Bake Off co-host Mel Giedroyc and comedian Jo Brand. Fabrice Muamba and Margaret 'The Machine' Alphonsi join the choir from the world of football and rugby respectively, and the line-up is completed by Radio 1 DJ Alice Levine and actor Larry Lamb.
Gareth Malone said: "I was honoured to be asked to help create the 2014 official BBC Children in Need single. It's daunting to think of the list of artists who have sung for BBC Children in Need in the past - now it's our turn. The task is enormous - none of these celebrities are known for their singing, but we are all coming together in support of a hugely important cause; it's time to put celebrity egos to the side and sing with one voice in the choir. I'm indebted to the generosity and bravery of these non-singing celebs who are putting their mouths where the money is to help raise funds for BBC Children in Need. I hope that the nation gets behind our attempt at the coveted No. 1 spot."
Sir Terry Wogan, Life President of BBC Children in Need, said: "I am delighted that young Gareth Malone is taking on this exciting challenge to support BBC Children in Need this year. I have no doubt Gareth will work his magic on this bunch of unlikely singers and I am looking forward to hearing the final result which will be this year's official single. Let's hope they've had plenty of rehearsals in the meantime!"
Twenty Twenty productions will follow Gareth on his journey, from scouting and auditioning the choir members to their final performances, in a two-part special documentary special for BBC One. With only a few weeks to turn the cacophony into a choir, could this be Gareth's greatest challenge yet?
The choir met for their first rehearsal (Wednesday 24 September) and will reveal which song they will be releasing as the official 2014 BBC Children in Need single in due course. The single will be released in association with Decca Records, part of Universal to raise funds for BBC Children in Need. The choir will come together for an exclusive television performance on the BBC Children in Need Appeal show, on Friday 14 November 2014 on BBC One, and the two-part Gareth Malone's All-Star Choir will air in the build up to the BBC Children in Need appeal night.
Tim Carter, CEO Twenty Twenty Productions, said: "Gareth had his first No. 1 with the Military Wives. Wouldn't it be amazing if we could pull it off again for such a good cause?"