Latest Mangusta sale for easyboats brings tally to three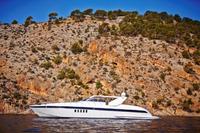 Mallorca-based easyboats has just finalised the sale of a Mangusta 80 to a German billionaire. This brings the number of Mangustas sold by the Company over recent years to three – no mean feat for a brand of yacht that is equally known for its high price tag as its stunning looks.

Lorenzo Vila, Director of 1989-established easyboats, says, "Although purely by coincidence rather than design, Mangusta has become a brand of choice for our increasingly high-net-worth clientele. In that segment, the 45 knot fast displacement sports yacht, there is almost no competition, and the unmistakable Italian styling is so timeless that even a ten-year-old model looks cutting-edge. The same cannot be said for more mainstream yacht manufacturers who bring out new models year-after-year making a three-year-old boat look 'old' in the process. The Italian manufacturers, Mangusta, Riva and the like, have certainly perfected design excellence."
easyboats' latest Mangusta sale was smooth and fast, not unlike the yacht. Having recently bought a home in Mallorca, the German businessman chartered a Mangusta 108 but found it too large and lacking in open central cockpit space for entertaining. The skipper on the day recommended he try an 80 and he approached easyboats for advice. On a Saturday he decided the 80 was perfect for his needs, on Monday they located a suitable boat in Ibiza and by Thursday he was viewing it. The rest is history. easyboats sourced the mooring and crew and is now project-managing a substantial interior and exterior refit for the new owner to make his mark.
Previously easyboats sold another Mangusta 80, to another billionaire, this time from the United States. This client had chartered with easyboats since 1992, generally for the whole month of August, and one summer the boat he chartered just happened to be for sale. Two days before the charter came to a close, he decided to buy it. The boat now lies in Mallorca in the summer and crosses to the Caribbean in the winter and joins a stable of fine boats including several explorers. easyboats' other Mangusta sale was the larger 92, purchased by a Spanish property developer from a British retail tycoon.
Lorenzo finishes, "Each client has been delighted that they chose the Mangusta. The only slight challenge is fuel consumption, but common sense says that if you're going to shift a hundred tons of boat through the water at a maximum speed of 45 knots, an impressive 83 kilometres an hour, it's not going to be easy on the diesel. Our clients are happy to sacrifice a few more euros for the sake of thrilling speeds. And who can blame them?"
easyboats has various pre-owned Mangustas for sale including a 2007 Mangusta 72 for 1.35 million euros, a 2003 Mangusta 80, and a 2009 Mangusta 130 for 9.1 million euros. The Company can also secure a brand new 80 soft top from the shipyard in Italy for an estimated 5.5 million euros.
For further information on yacht charter, sales and management, visit easyboats.com.