Barcelona Boat Show comes at right time for Spanish comeback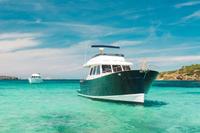 As Barcelona gears up for its biggest ever Boat Show, Marina Estrella believes the timing couldn't be better as Spanish buyers are returning to the market after a number of years of absence. 175,000 visitors are expected at the five-day event which kicks off 10am Wednesday 15 October.

Guy Norrish from 1972-established Marina Estrella, exclusive distributor of Azimut, Benetti, Cobalt, Hanse, Minorchino, Moody, SACS and Varianta, in Spain and Portugal, explains, "Over recent years the Spanish have been conspicuous by their absence with the 'slack' being taken up by buyers from traditional northern European countries, further east, and, increasingly, from Latin America. However, as Spain raises its economic growth forecasts, marine infrastructure improves, more moorings become available, and bureaucracy is relaxed with regards to key issues such as yachting licenses, taxation, and charter, the buyers are coming back and appreciating Spain as one of the best cruising grounds in the world."
Guy continues, "Barcelona has a terrific location, is easily reached from all over Europe, and this 53rd edition of the Boat Show promises to be the largest to date using all five Gran Via indoor exhibition halls and 250 boats in the water at newly-remodelled Marina Port Vell. Barcelona, like Palma, is an example of a European boat show that has adapted, survived and prospered, while others have lessened considerably in importance. Take Genoa, once a must-visit, now overtaken strongly by Cannes. At Marina Estrella our expectations for Barcelona are high."
As well as strong sales across the Cobalt and Minorchino ranges in particular, Marina Estrella is enjoying great success with the Azimut brand. Two models, the 77S and the 95RPH, won awards at Cannes 2014, while the 100% Italian- and family-owned Azimut-Benetti Group topped Boat International's Global Order Book 2014 with 79 yachts under construction.
Guy finishes, "Azimuts are looking extremely competitive due to the massive swing in exchange rates. With the pound rising to its strongest level against the euro in two years, strengthening 12% in a little over a year, sterling products such as Sunseeker, Fairline and Princess are looking pricey. Azimuts have euro price tags and are already in the Mediterranean so won't incur heavy transport costs either. We'll have six Azimuts at the Show, ranging from the new baby of Azimut Yachts' Atlantis Collection, the 34, starting from 190,000 euros, up to the Azimut 80 Flybridge, winner of a 2014 Motor Boat of the Year Award – all with unmistakable Italian styling."
Marina Estrella will be bringing no fewer than 20 boats to Barcelona. Six Azimuts aside, these include the entry-level 80,000-euro Varianta 37 and Moody DS54 sailing boats, both being seen for the first time in Barcelona. Also expect four sporty Cobalt motorboats, including the 336 which is the first to be seen in Europe, five from Hanse including the new 455 which is having its Spain debut, the SACS Strider 10 RIB, and a pair of modern lläut-style Minorchinos from Menorca-based Sasga Yachts.
For more information on Barcelona International Boat Show 2014, visit marinaestrella.com.