All-new Ford Mondeo delivers enhanced efficiency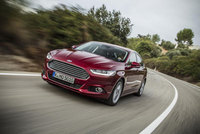 The all-new Ford Mondeo marks the global debut of a new pedestrian detection technology that could help reduce the severity of accidents or help drivers avoid them altogether.
Pre-Collision Assist with Pedestrian Detection feature is delivered alongside the model's widest ever range of powertrains including the first Mondeo petrol-electric hybrid. A new 210PS TDCi diesel engine with twin sequential turbocharging will be available early next year.
Available in four-door (hybrid only) and five-door bodystyles, and as an estate – developed specifically for Europe – the all-new Mondeo offers greater refinement and craftsmanship, technologies including Ford's adaptive LED headlamps and Inflatable Rear Seatbelts; and sophisticated design.
"The new Mondeo is the most technologically advanced Ford vehicle ever introduced in Europe," said Ulrich Koesters, vehicle line director, Ford of Europe. "Features like Pre-Collision Assist with Pedestrian Detection add safety and security for drivers in busy urban conditions."
Detecting pedestrians
Ford's new Pre-Collision Assist with Pedestrian Detection can detect people in or near the road ahead, or who may cross the vehicle's path. If the system detects a potential collision it automatically applies the brakes if the driver does not respond to warnings. The system processes information collected from a windshield-mounted camera, and radar located in the bumper, and checks it against a database of "pedestrian shapes" to help distinguish people from typical roadside scenery and objects.
If a pedestrian is detected in front of the car, and a collision becomes imminent, the driver will first receive an audible and visual warning. Should the driver not respond, the system then shortens the time required to apply the brakes by reducing the gap between brake pads and discs. If there is still no response from the driver the brakes are applied automatically and the vehicle speed is reduced.
Engineers tested the system on closed circuits using rigs fitted with life-size dummies. They also spent months testing and refining the system on roads around the world to prove system reliability under real world conditions.
"The real world testing was an important part of the development. Pedestrians come in all shapes and sizes, and adopt an infinite number of postures," said Gregor Allexi, active safety engineer, Ford of Europe. "We covered more than 300,000 miles that included an extremely wide range of people and potential situations."
The all-new Mondeo also will apply automatic braking to mitigate or avoid a collision with a vehicle ahead. Active City Stop operates at speeds of up to 25mph. At higher speeds new Pre-Collision Assist uses radar and camera technology which allows it to scan ahead and automatically apply up to full braking force to help the driver mitigate or avoid many types of rear-end collision.
Radar technology further enables the new Distance Indication feature and Adaptive Cruise Control technology. Distance Indication provides an intuitive visual interface to inform the driver of the time gap to the vehicle ahead. Adaptive Cruise Control automatically maintains a chosen distance from the vehicle ahead.
In addition, the forward-facing camera supports Lane Keeping Aid, which applies steering torque to guide the all-new Mondeo back in to lane if unintended drifting towards the lane marking is detected; and Traffic Sign Recognition, which provides the driver with the latest detected speed limit, cancellation signs and overtaking restrictions via the instrument cluster display.
Widest engine range ever
All-new Mondeo petrol engine options will include the 1.5-litre EcoBoost and 2.0-litre EcoBoost engines, to be joined in early 2015 by Ford's fuel-efficient and surprisingly powerful 1.0-litre EcoBoost petrol engine – which was recently named International Engine of the Year for an unprecedented third time in a row.
The all-new Mondeo will also offer a high-powered 2.0-litre TDCi diesel engine featuring twin sequential-turbocharging and delivering 210PS and 450Nm of torque. An ECOnetic Technology model will be available, powered by a 1.6-litre diesel engine with CO2 emissions of 94g/km* and 2.0-litre TDCi diesel models with 150PS or 180PS.
The four-door Mondeo Hybrid combines a specially-developed 2.0-litre petrol engine with an electric motor and 1.4kWh lithium-ion battery to provide optimised fuel economy and CO2emissions of 99g/km.*
Fuel-efficiency and emissions are improved across the Mondeo powertrain range by up to 14 per cent, supported by features including drag-reducing Active Grille Shutter.
Class-leading dynamics
The first model for Europe to be built on Ford's new global CD-segment platform, the all-new Mondeo will debut Ford's new integral link rear suspension configuration for improved refinement and more dynamic performance.
The all-new platform and body structure is enhanced with Electric Power Assisted Steering for the first time on Mondeo, and an optimised anti-lock braking system also helps reduce stopping distances by more than one metre from 62mph.
"With a body structure that's 10 per cent stiffer than the previous generation Mondeo and handling-enhancing technology that includes Torque Vectoring Control, this is the most responsive and versatile Mondeo yet," Koesters said.
Stronger body with advanced materials
The all-new Ford Mondeo uses sophisticated materials and production techniques to deliver greater strength and improved safety with reduced weight and enhanced sustainability.
An industry-first application of hydro-formed high strength steel is used to produce the A-pillars, B-pillars, and roof rails. A new magnesium inner tailgate structure for the four- and five-door models delivers a weight-saving of approximately 40 per cent compared with a traditional steel equivalent.
Also helping achieve body structure weight savings of up to 115kg for the 1.5-litre EcoBoost model is a recycled Front Energy Absorber, Ford's first design to meet pedestrian protection requirements in both the U.S. and Europe. The 1.5-litre EcoBoost Mondeo weighs 25kg less than the previous generation 1.6-litre EcoBoost model, with 80 per cent of weight savings re-invested in technology to support enhanced fuel efficiency, lower CO2 emissions, improved safety and better comfort.
"The weight saved during development has been carefully re-invested into fuel-saving features such as aero-shields and Auto-Start-Stop technology; comfort and convenience features; and a stronger and safer body structure," Koesters said. "We've improved the strength of safety relevant areas by 40 per cent, and verified the performance with thousands of computer simulations and more than 180 real-world crash tests."
The all-new Mondeo body structure features 61 per cent high strength steel. Bake-hardened steel is used in the roof structure to reduce weight by a further 0.5kg.
Further structural developments include:
An anti-roll bar uniquely designed to limit transmission travel in a frontal impact, minimising steering rack movement
Sill panels made of martensitic boron steel for improved side impact protection
Bumper crash cans optimised for energy absorption and harmonised with chassis rail characteristics
A flanged front cowl design that allows for flex under impact to increase energy absorption
An integrated rear underbody wheel-arch-to-rail connector that increases torsional stiffness by up to 25 per cent compared with a traditional design
Comfort, convenience and safety technology
The all-new Mondeo introduces Ford's adaptive LED headlamp technology to Europe; combining full-LED headlamps with Ford's Adaptive Front Lighting System to enhance the driver's view of surroundings.
An advanced version of Active Park Assist featuring Perpendicular Parking enables drivers to detect suitably-sized parallel parking spaces and reverse hands-free into spaces and is supported by Park-Out Assist, which helps drivers to exit parallel parking spaces. Side Parking Aid also warns drivers of obstacles to the side of the vehicle, as well as to the front and rear.
Ford's industry-first Inflatable Rear Seatbelt technology will make its European debut on the all-new Mondeo. In the event of an accident, the belt rapidly expands to disperse crash forces across a body area five times greater than that achieved by a conventional seatbelt.
The all-new Mondeo will also enhance comfort and convenience for drivers with features including first-in-class power-adjustable, memory-equipped steering column, and Ford's SYNC 2 connectivity system.
Segment-first enhanced MyKey technology will enable Mondeo owners to programme a key fob – usually for younger drivers. MyKey now can inhibit incoming phone calls as well as restricting the top speed; preventing deactivation of driver assistance and safety features; reducing the maximum volume of the audio system, and disabling the system altogether if driver and passengers are not using safety belts.
Superior refinement, design and quality
Road noise reductions of around three decibels in the rear and two decibels in the front have been achieved with integral link rear suspension and additional sound deadening material, while wind noise is reduced by eight per cent to levels previously only experienced in the premium segment.
Mondeo delivers best-ever quality and craftsmanship for both the refined, elegant, sporty and highly expressive exterior, and the interior that features optimised ergonomics and comfort, with premium finishes and equipment.
Produced at Ford's state-of-the-art plant in Valencia, Spain, the all-new Mondeo will feature a sports coupe profile with low roofline and incorporate a retractable panoramic glass roof for the estate bodystyle. The lean side-profile is sculpted to convey "visual lightness," while the sophisticated and technical front end design features Ford's more prominent trapezoidal grille, a power-dome bonnet and adaptive, slim-line, laser-cut headlamp design.
Inside, Mondeo drivers are greeted by a digital analogue instrument cluster, while a sleek, wrap-around centre console design delivers a sporty, cockpit-like feel.
"With four-door, five-door and wagon featuring stunning design and quality – and a power of choice engine range that now includes a hybrid electric vehicle option for the first time – Mondeo has never been more appealing," said Joe Bakaj, vice president, Product Development, Ford of Europe.