Ryan Clift launches Bin 38, Singapore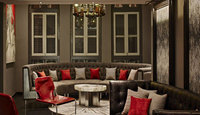 Chef Owner Ryan Clift, in collaboration with Australian winery Penfolds, is delighted to launch Bin 38, a luxurious private dining and research and development (R&D) space. Situated above his award-winning restaurant Tippling Club in Singapore, Bin 38 comprises three different spaces: a state-of-the-art R&D test kitchen, R&D cocktail bar and lounge, and private dining facilities. Renowned for his ground breaking, innovative cooking, Clift is delighted to be working with Penfolds, who share his passion for experimentation. The new venue will allow him to take his culinary vision one step further.
Ryan Clift comments: "The style of our food and drinks is continuously evolving in such a way and at such a pace that we require a dedicated R&D space to constantly create anew without distraction. When making Bin 38, I wanted a space that was every chef's dream kitchen – a space where the design and equipment can't help but breed creativity and inspiration on a daily basis".
The Bin 38 menu, which can be tailored to meet individual guests' needs and tastes, has been specially developed by Clift to complement the Australian terroir, showcased in Penfolds wines and will change every three months to reflect the change in season, as well as newly released vintages. Example dishes include: Smoked pollock with pickled onion, egg yolk and caviar; Pigeon with mushroom and black truffle ramen; Celeriac with duck tongues, sea herbs and vegetable jus; and for dessert, Dark chocolate aero with Manuka honey. Each dish is paired with aged and rare wines sourced directly from the Penfolds cellars. The cocktail offering features innovative drinks prepared by the Tippling Club bar team and include Purple Drank (vanilla and raisin spirit, curacao, candy gomme, raspberry and citrus) and Old Man and the Sea (blanco rum, anise, lime and ginger).
In contrast to the eclectic decor of Tippling Club downstairs, the interiors of Bin 38 are classic and luxurious featuring a darker palette of deep reds, maroons, rich browns, dark greys and black. Each of the three spaces is separated by steel-framed wire glass panels to create intimate spaces for private events.
With the launch of Bin 38, Clift and his team will continue to push the boundaries of ingredients and textures, offering Singaporeans and visitors to the city the ultimate fine dining experience.
For more information, visit www.tipplingclub.com.