La Folie Douce, Val d'Isere does Bodos Schloss, London and vice versa!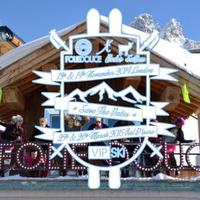 The upcoming winter 2014/15 season will see the collaboration of London's most renowned après ski themed bar and restaurant Bodos Schloss and the famous Val d'Iisere après ski venue, La Folie Douce. On the 13 and 14 November 2014 La Folie Douce will take up residence within Bodos Schloss for session of Folie frolics. Bodos Schloss will then take its members and party ethos to Val d'Isere on the 25 and 26 March 2015.
Recreating its winter wonderland in the heart of London, La Folie Douce will bring over its world famous establishment to the notorious Kensington nightspot for Thursday and Friday night. From the party both inside and out to the white metal milk churns to the staff uniforms, La Folie Douce's in house restaurant La Fruitiere will also have a presence within Bodos Schloss, offering its regional cuisine to customers. Entertainment provided will include Val d'Isere's hostess with the mostess, Kely Starlight and Folie Douce's cabaret and saxophonists. In a few short years, Kely and his team have taken the French après-ski scene to another level with their unique brand of live electro-house, dished up daily.
Following suit, Bodos Schloss will then bring its venue to Val d'Isere for an end of season blowout at La Folie Douce. Filling the location with its trademark Dirndl's and golden goat cocktails. Representing Bodos Schloss will be the establishment's cabaret dancers and alpine waitresses.
Luc Reversade, creator of La Folie Douce commented: "For me, it's really important to share the Folie Douce experience and know-how around the world, especially in the UK where the snow sports and mountain culture is so strong. Working with Bodos Schloss means having two mountain focused brands creating a really special event to launch the start of the season in downtown London and it's great to be a part of it."
Georgie Le Roux, Marketing Director of Bodos Schloss says, 'Being London's go to après ski destination it was only right that Bodos Schloss partner with La Folie Douce. We are excited for the collaboration and feel it will be the perfect way to begin and end this year's winter season.'