Top ten affordable dining suggestions for Adelaide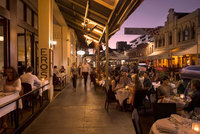 With a growing reputation for fabulous food and celebrated chefs, dining out in Adelaide needn't be an exclusive or expensive affair. The following local haunts offer some of the city's best, locally sourced and above all delicious and affordable food, perfect for enjoying a taste of South Australia without spending too much.
Street ADL, Rundle Street East – Street ADL celebrates Australian street food and is proud of its non-stuffy, simple approach. This is a great option for sampling fare from Scottish-born chef Jock Zonfrillo (Australia's next big thing) without the price tag and waiting list associated with the more formal Orana restaurant upstairs.
Minestra, 123 Churchill Road, Prospect – A humble suburban cafe where many of the ingredients come from neighbouring backyards. Local, home grown food cooked 'Calabresi style' for vegans, vegos and omnivores is the ethos of this Italian eatery. From a constantly changing blackboard list, recommendations include omelette with nettles and braised lamb meatballs with sautéed courgette and pepper.
Gin Long, 42 O'Connell Street, North Adelaide – One of a number of popular Vietnamese eateries popping up around Adelaide, Gin Long specialises in South East Asian hawker style street food. The braised beef cheeks are top notch.
Loose Caboose, 21 First Street, Hindmarsh – An Adelaide favourite for brunch, Loose Caboose is based in the heritage-listed Bowden Railway Station. Opt for the big breakfast and linger over coffee.
Star House, 1/39 Gouger Street – This buzzing yum cha restaurant shines as one of Chinatown's stars. An affordable choice for tasty dim sum, it's popular with locals catching up with friends on a weekend morning.
Lawash Bakery, 115 South Road, Thebarton – A top spot for delicious souvlaki, takeaway yiros (kebabs) are a thrifty option or sit down with a plate for around AU$10. Locals in the know take home a six pack of the flat bread and something sweet to devour later.
Rena's Thai Kitchen, 370 Kensington Road, Erindale – The eponymous Rena is a lady of advanced years who cooks like she's in her own home. Her limited English is no barrier when it comes to serving delicious Thai food.
Café Troppo, Whitmore Square – An eco-friendly place for breakfast, brunch and lunch with the focus very much on locally and ethically sourced, seasonal produce. Breakfast choices include a bacon and egg sourdough bap and sweet ricotta toast; for lunch try their freshly baked baguettes, one of the pizzas or a gourmet burger from AU$11. Tapas are available on Thursday and Friday nights.
Ruby Red Flamingo, Tynte Street – This lively and friendly Italian offers great food at good-value prices. Menu options include their eggplant pasta which is gaining something of a cult following.
Kutchi Deli Parwana, 7 Ebenezer Place – An intense burst of Afghani flavour has hit Adelaide's East End with the recent opening of Kutchi Deli Parwana. Modelled on the original restaurant Parwana on Henley Beach Road, Kutchi Deli offers delicious, home-style meals to dine in or eat on the run.