Adventures in Argentina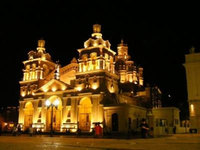 History, culture and scenic surrounds have long been synonymous with Argentina, which is a country known for the hypnotic sensuality of its tango, echoed in the vibrancy of its cosmopolitan cities.
Explore the learned city of Cordoba
Projects Abroad is based in Cordoba, which is the country's second largest city with a population of 1.4 million. Surrounded by the receding hills of the Sierras Chicas, the area is best known for its numerous universities, including the National University of Cordoba, which is the country's oldest university, giving the city the nickname la docta or 'learned one.' Due to it being primarily a student city, the nightlife is rich and there are myriad of restaurants and bars dotted around, along with numerous theatres.
Old and new intermingle in the mix of colonial and modern buildings, while the Jesuit Block is perhaps the most popular tourist attraction, having been declared a World Heritage Site in 2000. Another worthwhile site is the city's preeminent art gallery, the Evita Peron Museum of Fine Arts, which hosts multiple important pieces all in a magnificent palace setting. New Cordoba is the upbeat side of the city where most of the students live, resulting in a younger feel and plenty of trendy cuarteto-playing hot spots to explore.
Try the tango in Buenos Aires
If exploring cities appeals then ensure that your Argentinian adventure includes a visit to the capital, Buenos Aires. South America's second-largest metropolis lies on the banks of the Rio de la Plata and houses a population of roughly three million people. Cultural aficionados will be entranced as the city houses the world's highest concentration of theatres, along with pristine examples of European-style architecture.
Bookstores and art galleries abound and the city is home to multiple authors, artists and composers of note, lending a particular artistic allure to its ambiance. 'The city of books' also boasts a zoo of international acclaim and the beautiful botanical gardens, which were inaugurated in 1898 and currently house over 5,500 species of plants, along with a museum, library and thriving population of abandoned cats. Sultry tango music can be heard almost everywhere you go, the sensational rhythms causing your feet to inadvertently twitch in time to the beat; you can't leave Argentina without having danced the tango.
Providing you aren't a vegetarian, you also can't leave Argentina before you've tucked into one of the succulent steaks that the country is famous for. Parrillas (steakhouses) occupy every street, selling a selection of sumptuous cuts from sensational sirloin to juicy rib-eyes, flavoured with aromatic spices. Delight in a hearty meal and then go and work it off with a passionate tango at the nearest club.
Journey through the glacier adorned peaks of Patagonia
Patagonia is one of South America's foremost treasures, shared by Argentina and Chile. When you browse images of Patagonia, breath-taking pictures fill your screen, so vast and beautiful that they seem surreal – a relic of a forgotten world where space prevails and silence presides. The pointed turrets of snow-capped peaks rise up against the cobalt sky and watery expanses are framed by yellow ochre grasses, a tapestry of green and gold. It seems too good to be true, but it's real and when you arrive in Patagonia and witness the intoxicating landscape for yourself, the urge to stay forever is as strong as the accelerated heartbeat in your chest.
Although in Chile rather than Argentina, Torres del Paine National Park is well worth a visit despite the long drive to get there; it's located on the outskirts of the South Patagonian Ice Cap and spans 181,000 hectares. The centrepiece of the park is undoubtedly the Cordillera del Paine, a mountain range which consists of the three Towers of Paine (Torres del Paine in Spanish).
The sparkling granite outcrops sweep up in dramatic peaks dusted with snow and wearing a coat of the unnaturally-blue glacial ice. Extending 2,850 metres above sea level, the summits support a wonderful diversity of terrains, from glacial pools and rivers to glimmering rocks adorned in rough shrubbery. If hiking around the park seems like too much of a feat then opt for exploring on horseback. Horseback trekking is a very popular option, along with kayaking and ice-hiking for the more adventurous.
Los Glaciares National Park is another gorgeous wilderness to explore, with dramatic vistas of mountains, lakes and forests in every direction. The park consists of spectacular glaciers of varying sizes, along with the Andes Mountains in its western region.
There's a feeling of freedom and history in Patagonia that is hard to replicate anywhere else. It's a geologist's playground, with its glaciers and perfectly preserved fossil specimens, and it's also ideal for nature lovers due to the four vegetation zones it supports and its wealth of animals and birds, from guanacos and foxes, to the magellanic horned owl.
Marvel at the lover's eternal fall in Iguazu
The final stop on your Argentinian adventure should be the thundering falls of the Iguazu River on the border of Misiones and Parana. Iguazu means 'big water' in Guarani, and the falls are clouded in mystery and folklore, with one particular myth that tells the story of their formation. Once there was a lovely woman called Naipi who was so beautiful that a god fell in love with her. Naipi escaped from the deity with her mortal lover Taroba via a canoe. The god was so enraged that he sliced the river in half and thus created the waterfalls, sentencing the mortal lovers to an eternal fall. The Iguazu River is the boundary between Argentina and Brazil and the falls are astounding in their sheer magnitude and cascading chorus.
Argentina is a country like no other which will seduce you, whether by the sultry sexiness of its tango, the cosmopolitan charm of its cities or the silence of its sweeping landscapes. Projects Abroad offers multiple projects in Argentina including teaching, care and conservation placements. Explore the diversity of the area while also making a meaningful difference to the lives of others.
For more information, visit projects-abroad.co.uk.