easyboats Celebrates 25 Years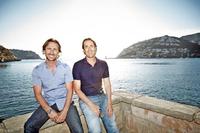 What do American Apparel, Carphone Warehouse, First Direct, The Simpsons, and yacht charter, sales and management company, easyboats, have in common? They were all founded in 1989 and celebrate 25 years in business in 2014 - experiencing recession lows and boom-time highs along the way.

"When we started our charter business, we genuinely had no idea if there would be anyone out there willing to pay 30,000 pesetas, 180 euros, for a day trip in one of our three family-owned speedboats," says Lorenzo Vila, Director of Mallorca-based easyboats, a company he founded with his brother Xisco. "You have to remember that, at the time, many earned as little as 80,000 pesetas, or 480 euros, per month, so we were asking a lot. Turned out there were plenty of willing wealthy people and by the end of year one 100% of our investment had been recouped – and more."
Offering the first motoryacht charter service in Mallorca (they had to persuade an insurance company to invent a policy, only sail-boat ones were in existence), instant good fortune led easyboats to invest in more boats. By the early 90s, in the fourth year of trading, competition started to spring up but easyboats had first-mover advantage and maintained market share and glowing references from satisfied customers – until demand rose to unmanageable levels.
Lorenzo continues, "We were forced to broker competitor charter boats but soon realized that not everyone shared our quality ethos. Faced with some unhappy customers we took everything back in-house and once more operated our own fleet. Initially the rewards were high, but as our boats got older and required more maintenance, the business model became unviable. Meanwhile more charter boats entered the market, often illegally without licences, and the competition undercut us on price. It was at this point we moved to the system that still works for easyboats today: professionally managing privately-owned boats while operating just one of our own. Laws have now tightened, the 'cowboys' have been wiped out, and we're grateful to have survived economic crisis by controlling our costs and maintaining our principles."
easyboats has certainly learnt a lot and seen many changes in its quarter of a century in the yachting industry. "Our first non-skippered charter was a steep learning curve," explains Lorenzo. "We foolishly gave our clients no curfew on time, or distance, and when they ran out of fuel they simply abandoned the boat on a beach on Mallorca's far western coastline. We had to recover that boat at midnight. After this wake-up call we implemented clear guidelines on return time and navigation distance, we've never had a problem since."
"I also remember regularly taking clients across to the unspoilt Balearic island of Formentera and dropping anchor at feet-in-sand restaurant Juan y Andrea for lunch. Even though they first opened in 1972, they were never too busy in the 1990s and would instantly recognize myself and Xisco, offering us free food or commission if we gave out business cards and kept the punters coming in. Today, if you want a table for next summer, you'd better book now, and they certainly don't need easyboats to spread the word."
Having been immersed in a glamorous high-value industry since 1989, easyboats also has photo albums full of famous and fabulous faces. "We are proud to say that we have chartered and sold boats to actors, supermodels, pop stars, professional sportspeople, royalty and billionaires," says Xisco Vila. "While many wish for, and deserve, our confidentiality, others have happily posed for photos, such as fun-loving reggae band UB40 and Film Director and Writer Blaine Novak. We've also been hired to drive boats for TV commercials, like Pandora jewellery, for music videos such as multi-MTV-award-winner Inna, and blockbuster movies. Lorenzo was even given a wig and called upon as an impromptu stunt double for a German actor to whom he bore a striking resemblance."
Lorenzo finishes, "To summarise we have had an amazing ride over the last 25 years and collected some great friends along the way. When we started we were so young, barely into our twenties, and it's incredible how time has flown and how the industry has developed. While the charter industry remains slightly rocked by the economic downturn and a legacy of stifling Spanish legislation, our 25th year has been amongst the best in terms of sales with several more in the pipeline before it's through. Building on our reputation for transparency and integrity, we now want to make more serious moves into the superyacht sector and look internationally, in particular winter charter in the Caribbean and the emerging Asian market. Wherever the next decade takes us, easyboats will continue to place the customer first."
For further information on yacht charter, sales and management, visit easyboats.com.