Palma Superyacht show looks forward to third edition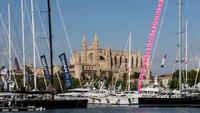 Having made its debut in 2013, the Palma Superyacht Show, in partnership with MYBA, is now a firm fixture on the yachting calendar. Running concurrently with the 32nd Boat Show Palma, this Mediterranean season opener takes place from 30 April to 4 May 2015.

Jane Thompson, Coordinator of the Palma Superyacht Show, says, "Avoiding comparisons with Cannes or Monaco, the Palma Superyacht Show has established its own clear identity as a brokerage and charter show of excellence, perfectly timed before the summer season. Designed to coincide with 1 May, a public holiday in most European countries, as well as the UK's Monday 'May Day', we hope visitors will take a long weekend break in hospitable Palma, enjoy the sunshine and see a great selection of top quality yachts."

The outlook is certainly good for the Show. Providing a platform for charter and brokerage boats above 24 metres, both sail and motor, the 2015 Palma Superyacht Show is once more growing in size to cater to demand. In 2014 a total of 34 service- and equipment-related companies occupied shoreside exhibition stands, for the third edition this will rise to 50. There are also plans to up the number of superyacht berths.

"We are working hard to get more berthing space for the 2015 edition of the Palma Superyacht Show," says Arne Ploch, Coordinator of the Show's in-water display and Sales Broker for Camper & Nicholsons. "There were 55 attending yachts in 2014 and we are going to try and fit in ten more. With the Palma Superyacht Show now established as one of the most important brokerage and charter events before the summer, demand is high. We were sold out in 2014 and expect the same again for 2015, but this time much earlier. With five berth reservations already signed from those who didn't attend the previous year, we can't impress on potential exhibitors enough to book as soon as possible – particularly for charter as Spain is now fully open to foreign-flagged yachts and the market is burgeoning."
Several exhibitors have realised the sense of urgency and already reserved space for 2015. Shipyard Astilleros de Mallorca and refinishing and chandlery business, Nautipaints, are among the early movers.
Jenny Maul from Astilleros de Mallorca, said, "The previous Palma Superyacht Show was a great success for Astilleros de Mallorca and we had a large stand. The relaxed and positive atmosphere at provided a great platform for communicating and sharing information with many other companies, while our long-term customers were impressed by the Show's fresh image and the presence of the best yachts available in the market for sale or charter. The Show has obvious potential to flourish and establish itself in the coming years as one of the top events in the superyacht industry. We're looking forward to the next edition."
Toni Salom, CEO of Nautipaints, exhibiting for the third successive year, said, "Palma is one of the most dynamic and competitive yachting refit destinations in Europe, and the Boat Show is a great opportunity to meet other companies involved in the nautical industry, so it's only right that a well-organised Superyacht Show should also be based here. We're proud to be part of it."
For information on exhibiting in 2015, visit palmasuperyachtshow.com.