Gorenje partners with Jeremy Wright Ltd. for Dartmouth Food Festival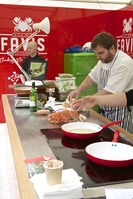 Leading kitchen appliance manufacturer Gorenje has teamed up with Jeremy Wright Ltd. to supply a range of appliances for Dartmouth Food Festival.
Gorenje supplied kitchen appliances to the Jeremy Wright Ltd. stand which saw well-known Chef, Mitch Tonks deliver a live cooking demonstration.
Now in its 11th year, Dartmouth food festival saw tens of thousands attendees at this year's event.

Stuart Benson, national sales manager at Gorenje UK commented: "Dartmouth Food Festival is a fantastic regional event that showcases the very best of local produce and businesses.
"Jeremy Wright Ltd. is a great local company and we were more than happy to get involved with supplying appliances for the stand at the event!"
Gorenje supplied three key appliances to the stand; an iconic Ora Ito oven in white, a sleek IT951AC induction hob and a stunning Retro fridge in Lime Green.

Jeremy Wright, owner of Jeremy Wright Ltd. Commented: "The design of the Gorenje appliances were a real draw for people visiting the stand. The Lime Green Retro fridge in particular made a real bold statement!"
The Jeremy Wright Ltd. stand, including the Gorenje appliances, will be showcased at numerous other events over the next few months including 'Taste of the West' in Exeter and 'The Crab Festival' in Dartmouth.
Stuart concluded: "It was fantastic that our appliances were so well received at the festival and we are looking forward to being part of more events like this soon!"

For more information about Gorenje's range of appliances, visit gorenje.co.uk.