Spanish superyacht charter fleet burgeons after tax exemption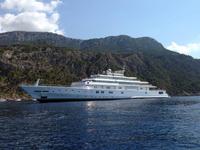 With charter yachts of any length now exempt from paying 12% matriculation tax whilst operating in Spanish waters, superyachts are queuing to register in Spain. The country's most popular cruising ground – the Balearics – is feeling the effects.

Lorenzo Vila, Director of Mallorca-based easyboats, celebrating 25 years in business in 2014, comments, "Matriculation Tax, or IEDMT, had all-but obliterated Spanish charter by driving business into far-more-favourable EU waters. However, with the tax exemption now inscribed in law, alongside new legislation allowing non-EU-flagged boats to offer charter services, our superyacht charter market is burgeoning. A preliminary study by AEGY, the Spanish Association of Superyachts, shows that 21 yachts over 24 metres joined the Balearic charter market for the 2014 season. Palma-based Network Marine Consultants believe that figure is much higher in reality, most likely 34 yachts, with many more set to join the fleet for 2015. These are exciting times and not only will charter companies such as easyboats benefit from the relaxed legislation, but also the wider Spanish economy."
The same AEGY study highlights the considerable wealth that these 21 additional yachts (ranging between 25 and 52 metres) have already brought to the Balearics, almost four million euros, broken down in terms of charter fees, fuel, food and beverage, and mooring costs. With around 600 yachts over 24 metres available for charter in the western Mediterranean, it's only a matter of time before owners and captains realise that Spain is now open for business and it gathers a far larger market share and economic gain.
Lorenzo finishes, "The signs are good, legislation is becoming more favourable, and we applaud the progress that has been made so far. But a certain degree of patience will be required before we see a Spanish superyacht charter fleet that runs into the hundreds. The good news is that, charter aside, many more superyachts visited Mallorca in the summer, at least double those we spotted in 2013, as they build the Balearics into their Mediterranean itineraries. With each Island offering a different personality: Menorca for tranquillity and unspoiled landscapes, Ibiza for glamour, beach clubs and nightlife, Formentera for an unbeatable coastline and seafood restaurants, and Mallorca for dramatic landscapes, seafront dining and high-end marinas such as Port Adriano, Port Andratx and Puerto Portals, we can both complement and compete with the South of France and Italy."
For further information on yacht charter, sales and management, visit easyboats.com.
About easyboats - For 25 years, easyboats has been at the forefront of Balearic yacht charter, sales and management. We are your first port of call for bareboat and skippered charter and, if you're an owner, we'll respectfully manage and market your yacht. When it comes to purchase, from a Riva motoryacht to a custom-build superyacht, easyboats is your perfect partner. Working for vendors and buyers, we arrange valuations, marketing, sea trials, marine surveys, finance, insurance, change of ownership, RYA Training and crew. Berths, repairs, refit, maintenance and storage are also at easyboats' fingertips. Always acting with integrity and transparency, easyboats' personalised service comes naturally.