Sail across the Atlantic ocean as voyage crew in 2015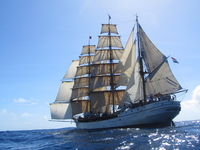 Another World Adventures is calling adventure seekers to join the voyage crew of epic transatlantic ocean crossings in 2015.
An ocean adventure under sail is the stuff of dreams. Forget boring cruises and long haul flights when you reach far off destinations and really earn your ocean stripes on board one of seven exciting voyages that are scheduled to set sail across the Atlantic Ocean with intrepid travellers joining in as voyage crew.
Landlubbers will be turned into salty shellbacks as they experience a hands-on sail crossing of the planet's second largest ocean with voyage fares starting at around £1,800 including all meals, training and accommodation.
Voyages include:
Epic 28 day tall ship voyage from Tenerife to Salvador, Brazil on a 104 year old Dutch tall ship from Euro 2,380
ARC Transatlantic Canary Islands to St Lucia 16th Nov – 8 Dec 2015, £3,750, 22 days individual race berths
Transatlantic Yacht Race - Antigua to UK via Azores, May - June 2015 £2,698 for full race
All-Female Crew science research expedition from Ivory Coast, West Africa to Recife, Brazil via Ascension Island studying ocean toxins, 2 - 24 November 2015, £4,990
Journey to the Northern Hemisphere from Cape Town to Azores crossing the equator 28th April - 19th June 2015 two legs from 22 days, €1,920
A six month double crossing from Canada to Europe and back via Africa & the Caribbean Oct 2015 - April 2016 in two legs from Nova Scotia, Canada to Canary Islands in Spain via Azores, Cadiz, Gibraltar & Essaouira, Morocco before setting off on the second voyage leg visiting Dakar in Senegal, Portugal's Cape Verde Islands, Barbados, Grenada, Carriacou, The Grenadines, Bequia, Martinique, Dominica, Les Isles des Saintes, Antigua, Anguilla, British Virgin Islands, Bermuda to Lunenberg, Nova Scotia in Canada.
One additional route Cape to Cape (South America to Southern Africa) in March 2016 (dates on request) includes an exploration of Antarctica and the infamous passages that turn landlubbers into ocean sailors including Cape Horn and the Drake Passage.
For all voyages except the races, sailing experience is not required. All nationalities and ages can participate. Solo travellers are welcome without single supplements as are couples and small groups. Voyages last between three weeks and six months and fares cost from £1,800 full board (ex-flights and transfers).
The permanent crew explains everything about navigation, sail handling, square rig sailing and more as the voyage crew learn the language of the sea. The ships all sail 24 hours a day and at sea a watch system applies which means everyone takes turns on look-out, sail handling and helm. Informal classes teach participants about navigation and life at sea.
Another World Adventures was founded in 2012 by Larissa Clark and Tori Howse after a transatlantic sail voyage on board a 100 year old tall ship. We set up the company to cut through the 'noise' about adventure travel and connect adventure seekers with brilliant specialist operators offering unusual and genuine adventure trips around the world. There are no mark ups, booking fees or agency fees when travellers find their trip through Another World Adventures and they save time and money by booking and paying the operator directly.
As Another World Adventure Co-Founder Tori Howse explains "Our trips are perfect for people looking to enjoy the 'journey' of travel, or those looking for a more creative and adventurous way to get to and explore some unusual destinations and alternative bucket-list dreams whether they're travelling alone or with friends."
Full details and booking, visit AnotherWorldAdventures.com.