Glories of Persia - Archaeology Tour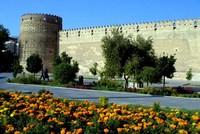 Travel The Unknown has created a brand new itinerary to Iran entitled Glories of Persia, an archaeologically themed itinerary which will convey the strength of spirit and unique historical and natural delights that adorn this jewel in the Middle East.
For the intrepid there is much to discover in Iran – or Persia at it was formerly called; ancient temples and artworks, mosques, fortresses, and striking monuments, each of which reflects its own intriguing history.

Highlights of the itinerary include:
Persepolis, the ceremonial capital of the Achaemenid kings, which tells the story of the Achaemenid Empire's magnificence and grandeur, as well as its demise. The city wasn't recovered until the 1930s, which is why it still survives to this day.
Construction of the site began under Darius the Great, but the complex was expanded upon by subsequent rulers and contains the remains of the palaces of Darius, Xerxes and the Artaxerxes. The Tachara Palace is decorated with famous bas-reliefs depicting kings, courtiers and other gift-bearing representatives of tributary nations of the Persian Empire.
On day five of the itinerary the group will travel to Tagh-e-Bostan to see the extraordinary Sassanian rock-carvings which depict a series of royal hunting scenes and the investitures of Sassanian Kings. Some of the carvings are sheltered in a grotto and Khosrow II, king from 591-628 AD, has the most dramatic portrait; a gigantic equestrian statue, with the ruler mounted on his favourite charger, Shabdiz.
Shiraz is the capital of Fars province in Iran and the fifth most populous city in the country. The earliest references to it date back to 2000BC and it has been an important trading centre for over a thousand years. It was briefly the country's capital on two occasions – in the Zand era and the Saffavid era. It is famous for its poets including Hafez and Saadi.
On day 11 of the trip, the group will visit the Zoroastrian Towers of Silence, which are an eerie set of flat topped buildings from which the bodies of the dead were placed, to prevent the body from being contaminated by demons – the belief was that by exposing the body to the elements and vultures, the body would be purified. The bodies were arranged in 3 concentric circles – the inner most for children, the middle for women and the outer circle for men.
A must see in Yazd is the Jameh Mosque (Friday mosque) which is arguably the city's greatest architectural landmark and dating back to the 15th Century. It is flanked by two 48m high minarets, boasts a 15th Century inscription and has one of the tallest tiled entrance portals in Iran.
The first departure for the new itinerary is on 10 April 2015 and it costs from £3,295 pp (two sharing). This includes international flights, all transportation, 15 nights' B&B, entrance fees to sites & parks and drivers/guides.
For further information, visit traveltheunknown.com.