Property investment opportunities for buyers in the South West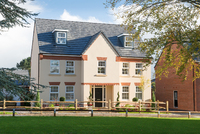 David Wilson Homes is offering a major initiative to sell show homes at its developments in the region to new and experienced buy-to-let investors.
The five star housebuilder says there continues to be a marked increase in investors looking towards bricks and mortar for their investments and it currently has properties available in Exeter, Gloucestershire and Taunton.
"Investors range from those looking for their first property, though to professional investors and those considering property to fund their retirement,' said sales director Louise Ware.
"At the moment we can offer investors the opportunity to buy a show home at selected developments in the region and then immediately lease it back to us for up to three years to use as a marketing suite with a yield of six per cent.
"Rather than have to worry about untidy tenants, the investor knows that we will maintain the property in pristine condition. David Wilson Homes also guarantees internal fixtures and fittings for a full five years."
Louise said investors are also looking at long term prospect for their properties. "They take the view that the direction of house prices in the medium term is up," added Louise. "So they expect to be sitting on a tidy profit in three to five years' time."
"We expect high demand for this product and have a section of our website at dwh.co.uk/campaigns/showhome to provide full details to interested investors."
Homes currently being offered to investor buyers by David Wilson Homes include properties at Whittington Park and Thurstan's Rise in Gloucestershire, Earls Park in Exeter and Langford Mead in Taunton.