Get in shape in 2015 with the new Aldi Specialbuys Yoga and Fitness Range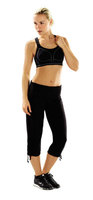 With the festive period well and truly over, it's time to make good on your New Year's resolution and get fit without spending a fortune. Aldi Specialbuys Yoga and Fitness Range launches in stores on the 2nd January 2015 and with a whole host of new yoga gear, home gym equipment and fitness accessories, the range has everything you need to get fit, healthy and in shape this New Year for less.
Yoga
With super soft Lycra Yoga Capri Pants (£6.99), super soft and loose fitting Yoga Leggings (£8.99) and breathable, extra-long length Yoga Tops (£5.99) - all designed to provide high stretch yet remain comfortable, you'll be mastering your yoga poses effortlessly. Complete the look with a long sleeved hooded thermal Yoga Jacket (£11.99), featuring a moisture management system to help you stay dry during your workout, as well as an audio port for your MP3 player or ipod so you can enjoy listening to your favourite songs while exercising.
To complete your yoga kit, Aldi also has a fantastic Yoga and Pilates Accessories Set (£4.99), a must for any keen yoga enthusiast, which includes yoga balls, yoga blocks, pilates rings and fitness bands.
There's also a Yoga Mat and Foam Roller Set (£6.99) that's perfect to help improve your core strength and prevent your hands and feet from slipping when trying out your best plank or bridge pose.
Fitness
If you're looking to do a more high energy class, the High Impact Sports Bra (£12.99), available in black or white, will make you feel comfortable and supported whilst you burn those calories. Combine this with a pair of Fitness Trainers (£11.99) available in both men's and ladies' sizes and you'll be ready to sweat and really work it at your next aerobics class.
The new range also includes a fantastic selection of gym equipment so you can kit out your home with the latest gear and ditch the expensive gym membership. With colourful cast iron Kettlebells from 2.5kg (£6.99) up to 7.5kg (£11.99) as well as 1kg, 2kg and 3kg ergonomically shaped Dumbbells (£6.49) you'll be able to build and tone muscles.
To reduce impact and keep you comfortable, grab a soft foam Fitness Mat (£7.99), made with two layers for added padding.
If you're struggling to feel motivated, grab a pair of Sports Earphones and Armband (£4.99) so you can play some great workout tunes to get you in the mood. Producing superior sound quality, these in-ear earphones are super comfortable and great for when you're on the move.
With the new Aldi Specialbuys Yoga and Fitness Range you'll be able to look great and feel great this January, but be quick because once they're gone, they're gone!
On sale from 02.01.15 and available while stocks last