Poinciana Parkway progress a year on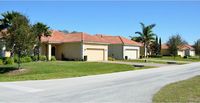 It is now a year since work started on the major Poinciana Parkwayin Florida, USA, – and the $150million project is progressing well.
The latest aerial photographs show that work on the 9.6-mile two-lane toll road, which will create a direct route from Poinciana to the busy I-4 corridor that will cut travel time and congestion, is forging ahead.
The road will benefit the new Tuscany Preserve at Lake Marion gated community of 500 quality villas, townhomes, and single family homes, which is being constructed by Florida developer, Feltrim Group.
The luxury development features two-bed single-storey villas from $154,000, three-bed, townhomes from $182,400 and four-bed townhomes from $212,400.
The project, which is in a conservation area with a natural forest setting and runs along the shores of the 2,990-acre freshwater Lake Marion, includes clubhouse with a gym, tennis courts, basketball courts, and a swimming pool with children's play area.
Feltrim Group, Chief Executive Officer, Garrett Kenny says, "The new highway will make a real difference to travel time from Poinciana to the I-4 corridor and it's great to see that a year into the project, excellent progress is being made."
"Tuscany Preserve, in Poinciana is perfectly placed for vacation homes, retirement properties and when the Poinciana Parkway is finished, it will be even quicker to get to Orlando and its theme parks, amenities, shops and golf courses."
Headed by the Osceola County Expressway Authority, the Poinciana Parkway project awarded the contract for this historic initiative to local Jr. Davis Construction and UIG Poinciana Parkway LLC.
Phase One of the new highway is scheduled to be ready by May 2016, with Phase Two ready by November 2016.
Poinciana Parkway is planned to be the first part of a long-term project for a belt-way around South Osceola County that links the I-4, US-192, Osceola Parkway and Florida's Turnpike, according to Osceola County Expressway Authority.
It will connect Cypress Parkway west of Poinciana Hospital Medical Center to US 17/92 in Davenport. It will cross 17/92 to Ronald Reagan Parkway which will provide multiple options to connect to Osceola CR 532 intersecting with I4 at Champions Gate.
The Early Works included clearing and grubbing, the design and construction of the surcharges on US 17-92 and Kinney Harmon Road as well as the design and construction of the temporary haul road for the RCMB bridge.
The 90% design plans for Segment 1 were submitted, reviewed and commented on and are set to be released for construction in December 2014, according to the latest progress report heard at December's meeting of the Poinciana Parkway Osceola County Expressway Authority (OCX) Board Meeting, published on the DAC Bond website.
The Segment 2 – Kinney Harmon Road plans were released for construction in August 2014 and roadway work is progressing. Drainage structures and drainage pipes are installed in some areas and muck removal and embankment placement are on-going.
The 90% Segment 3 roadway plans for RCMB Bridge were released for construction in October
2014 and a permit for drainage modifications is set to be issued in December 2014. Test and production pile driving, pier cap forming and pouring, and beam placement is continuing.
Preliminary plans for Segment 4 are scheduled to be submitted in December 2014. There has been no construction so far on this part of the project.