Zoom in on Africa with Getting Stamped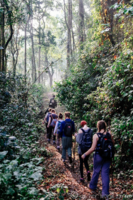 Safari specialist, Acacia Africa has joined forces with Getting Stamped to create an exciting camping overland departure focused on photography. Blog editors Adam and Hannah Lucaszewicz are currently snapping their way across the globe on a two year gap. To date, they have covered 45 countries, eight of those in Africa, the couple taking over 500,000 photos and counting. Their second expedition with the tour operator, Getting Stamped recently travelled on the 43-day Kenya To Cape Town, the itinerary including visits to five nationals parks and the Masai Mara Game Reserve. In 2015, Hannah and Adam will be heading back to Kenya and discovering Uganda on the 18-day Mountain Gorillas To The Mara adventure.
Arno Delport, Sales & Marketing Manager at Acacia Africa comments, "Getting Stamped's knowledge and expertise will really enhance the game viewing experience. When you consider the wealth of wildlife encountered on this trip it is a compelling option for amateur photographers - opportunities to see the Big Five, huge flocks of flamingos and the endangered Mountain Gorillas major highlights on the expedition."
Mirroring the relaxed nature of overlanding Getting Stamped will be running informal lessons on a daily basis and offering advice to travellers in the various parks and reserves visited on the tour.
"The best way to pick up and practice new techniques is when you're out on safari and there's a real art behind creating the perfect wildlife shot," says Adam. "Composition is one of the first steps to taking great photos, so at the beginning of the tour we will learn how to frame shots and find out how to look for elements that will bring them to life. We'll also be concentrating on the technical side of photography before heading off in the 4X4, and applying it the same day to help make the connection."
The 18-day Mountain Gorillas To the Mara itinerary includes several stunning locations which are bound to excite budding photographers. The Lake Nakuru National Park is the ideal setting for practicing wide angle manoeuvres. Millions of flamingos flock to this seasonal feeding ground year on year - a fuchsia pink fringe running across its shallow waters between April and June. Famous for the annual migration, the Masai Mara also holds its own as a year round big cat destination, the BBC's popular Big Cat Diary filmed in the Kenyan game reserve.
"We visited the Mara in May and spotted all of the Big Five. It pays to travel outside of peak season as there will be less visitors - a factor that also increases the probability of being treated to an unexpected wildlife encounter. Our leopard sighting was brief, but beautiful; seeing a lioness with her four young cubs, a cheetah chasing its prey, and huge herds of elephant and buffalo also memorable moments."
"When approaching animals you should have your shutter speed set to a fast setting," claims Adam, "as if they are startled you may only have a few shots. After the animal is comfortable with you being there you can try to optimize the result. During the overland expedition we will be touching on the mechanics and technical aspects of our cameras so you can get to grips with how aperture and shutter speed affect your photos, and we'll learn how to use them in order to create a library of amazing safari images."
Gorilla viewing is agruably one of Africa's ultimate wildlife viewing experiences. In Uganda the group will trek in Bwindi - the national park home to to many of the world's last remaining Mountain Gorillas, only 700 in existence today.
Adam comments, "The forested canopy at Bwindi will create some challenging light conditions for photographers, but hopefully it will also yield some amazing shots of the primates in their natural surroundings."
Before heading to Africa, Getting Stamped have some sound advice. "Practice with your camera before getting on the plane. Have a good enough handle on your camera's settings so you aren't fumbling with it while a leopard waits for you to take his photo. The truth is he probably won't - this elusive member of the Big Five often disappearing in the blink of a eye."
Acacia Africa's 18-day Mountain Gorillas To The Mara expedition costs £1,095pp (no single supplement) + local payment from £563pp + gorilla & chimp permit £430pp including camping accommodation, transport, most meals and services of a tour leader/driver. Excludes return flight. Starts Nairobi - ends Nairobi. Departing 02 May, 2015.
For more information, visit acacia-africa.com and gettingstamped.com.