Chile: Eco-tours, music festivals, stargazing and adventure travel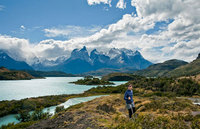 Chile has something for everyone in 2015 – Whether travelling with friends or travelling solo, you'll find everything you love in Chile, from dancing to the music of some of the world's best known bands and DJs to exploring the natural beauty and extreme geography of different regions.
A trip to Chile must include the Atacama Desert, especially since being awarded one of the top 10 regions to visit in 2015 as selected by Lonely Planet. Lonely Planet emphasised that "Chile has launched the largest astronomical project in existence. With astronomer-led stargazing tours leaving nightly from the village of San Pedro de Atacama, there's never been a better time to visit". Indulge yourself in stargazing through the bright, clear desert skies that can be seen for the most part of the year, unlike anywhere else.
Solo travellers can also enjoy the beauty of Chile with peace of mind, having been chosen by Travel + Leisure magazine as one of the best places to travel solo around the world. Out of 20 countries Chile is in seventh place on the Global Peace Index and the Happy Planet Index.
From January 27th-February 5th, kicking off the musical year is the 47th version of Frutillar Music Weeks in the small town of Frutillar, known as the 'Jewel of Southern Chile'. Here, visitors can kick back and relax on a long stretch of beach made entirely of black volcanic sand. The concerts are performed at Teatro del Lago and attract more than 150,000 classical music lovers each year.
From February 22nd-27th, Viña del Mar International Song Festival, now in its 56th year, will take place at Quinta Vergara Park. The festival has been classified among the ten most outstanding landmarks that makes Chile known worldwide.
On 14th and 15th March, visitors have an incredible line-up to look forward to as Lollapalooza festival returns to the grounds of O'Higgins Park in Santiago for the fifth time. The two day extravaganza will be headed by Jack White the former guitarist of The White Stripes, Kings Of Leon, Robert Plant the former vocalist of Led Zeppelin, Kasabian, Calvin Harris and Skrillex to name a few. Bringing forth authentic talent and energy will be artists representing Chile, including Congreso, Jorge González, Fernando Milagros, Astro and Pedropiedra. 70 bands will take their place across six stages to entertain a sea of fans. For the younger generation, soon to be announced is the line-up of performers for Kidzapalooza. Continuing to highlight the green effort of Chile, initiatives such as 'Rock&Recycle' will be in place during the festival.
Between October 5th-8th, adventure seekers will be making their way to Puerto Varas as Chile has the honour of hosting the 2015 Adventure Travel World Summit. Great tourist attractions, natural beauties and an extreme geography are a few of the reasons why Chile was chosen by the Adventure Travel Trade Association, ATTA, as the venue for their next summit. Over 700 delegates including tour operators, specialised press and representatives of diverse destinations will be summoned from 60 countries to participate in meetings, commercial exchanges and to attend workshops. They will also be invited to experience some of the best available tours in Chile in order to showcase what Chile offers in terms of adventure travel. Puerto Varas has been selected as it is an ideal place to practice kayaking, fishing, mountain climbing, trekking and skiing and is less than two hours away from Santiago by plane.
Whether you're visiting the Atacama Desert in the north, Chiloe Island in the south or historical Patagonia, getting around is simple and safe. In fact, you're likely to find yourself attending a barbecue and integrating with a local family in this friendly country.
More information about Chile: chile.travel