Zurich's iconic Baur au Lac unveils transformed lobby lounge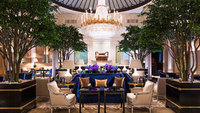 The renowned Baur au Lac, Zurich's location of choice for the world's elite and jet-set for 170 years, has just completed a head-to-toe renovation of its central lobby lounge, the centrepiece and heart of this iconic, family-owned hotel.
Since the Baur au Lac opened in 1844, "Le Hall," as it is known, has been the meeting place for the world's elite.
Major moments in history have taken place within its wood-paneled grandeur. It was in "Le Hall" that Bertha von Suttner convinced industrial magnate, Alfred Nobel, of the need for a world peace prize. Thomas Mann wrote here. Marc Chagall sketched here. Empress Sissi sipped afternoon tea here. And it was here that Franz Liszt accompanied his son-in-law, Richard Wagner, on the piano for the world première of "Die Walkure."
The renovation has transformed "Le Hall" back to its original light-filled guise, a restoration spearheaded by noted architect and designer, Pierre-Yves Rochon; Rochon was also responsible for the Baur au Lac's recent reimagining of the Pavillon restaurant and the interior decor of the hotel's meeting rooms.
"In the 1950's, "Le Hall's" original glass roof was covered to install air conditioning," says Andrea Kracht, sixth-generation owner of the hotel, "but now, with a new generation in mind, we decided that 21st-century technology would enable us to restore my ancestors' original glass-roofed splendor and still keep the space air-conditioned."
After meticulous research into the architectural history of the building, and in cooperation with Pierre-Yves Rochon and interior designer Frederic d'Haufayt, an entirely new design concept was created that blended the hotel's history, its present and its future.
The "Hall" effortlessly combines classical touches - wooden paneling, mirrors and natural stone walls, with contrasting modern elements, such as a new polished mahogany and black granite bar. In addition to the rebirth of the glass dome, the entire ceiling of "Le Hall" was raised and a spectacular Empire period chandelier installed, bringing space and light back to the heart of the hotel. Porcelain Chinese table lamps, gilded Art Deco sconces and floor lamps, concealed spot lights, hand-made wool and silk carpeting, elegant seating areas, historic paintings and an Art Deco fireplace engage the transformation. "One of the most thrilling elements of the new "Hall," says Kracht, "is the prominent addition of two paintings by American artist, Pat Stier, whose random brushstrokes, grid lines and color charts complete the creation of a sophisticated, contemporary and elegant home away from home in the heart of Zurich."
Since opening in 1844, the Baur au Lac's "Le Hall" has been at the core of Zurich society, a much favored meeting place for both locals and hotel guests. "And now," says Kracht," this transformation makes "Le Hall" relevant to a new less formal generation." The 170-year legacy of the Baur au Lac continues.
To book and for more information, visit bauraulac.ch.