Verbier adapts to the strong franc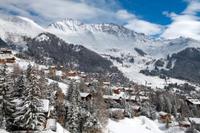 Ski rental relief in Verbier as 15% is slashed off the current prices as well as the good news of 15% discount on holiday reservations in apartments and chalets from February 2015.

Following the Swiss National Bank's announcement to cancel its policy of a fixed exchange rate pegged to 1.20 Swiss francs for 1 euro, businesses around Verbier met to discuss possible solutions to combat the strength of the franc. The greatest challenge naturally lies in ensuring that businesses try to combat this recent hike in prices to appeal to all Verbier's clientele.

In light of this, the Association des Gérants Immobiliers de Verbier (Verbier Real Estate Agent Association) has decided to grant – for all new holiday reservations made up and until the end of April – a discount of up to 15% on all accommodation offers published on the Verbier website as well as those of the different real estate agents.

Meanwhile, the sports shops which are members of the Société des Commerçants et Artisans de Verbier (Verbier Association of Retailers and Artisans) have decided to adapt their prices and offer a 15% reduction on all clothing and technical equipment. In addition, for every new reservation made from the beginning of February, sports shops will offer a 15% voucher for equipment rental for their clients.

Other partners in the resort are also striving to offer attractive savings for clients:

Téléverbier will offer a 15% reduction on pre purchased six-day ski passes for Tour Operators working in the eurozone and the UK. This must include in the package at least accommodation and ski passes. The ski passes need to be bought and paid for at least 10 days prior to customers' arrival in the resort. This offer is available until the end of the present winter season.

Individual skiers can receive a 5% off reduction by purchasing ski cards 10 days ahead of time via the verbierbooking.ch platform.

Hoteliers and restaurant owners are also offering promotional deals on an individual basis. These offers are available directly with each establishment.

Verbier values its clients and hopes through these efforts that clients can benefit from a number of advantages, despite the strong franc. The region cares about its clients and above all, wishes to retain both its Swiss and overseas visitors.