The 'modern' signs of true love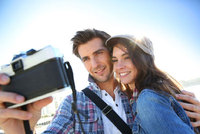 We used to say it with flowers — but now the true sign of modern love is a change in Facebook status from 'single' to 'in a relationship', according to new research.
A survey asking 2,000 adults about the modern signs of true love found a massive 64 per cent said updating on social media makes a new relationship 'official'.
Having your partner's photo as your desktop background, using their name for your online passwords and saving their favourite shows to your Netflix account were also named as modern signs of true love.
Amazingly, over a third of adults confessed they would say 'I love you' for the first time in a text, instant message or video chat.
A spokeswoman for gifting website GettingPersonal.co.uk, which carried out the survey, said, ''As technology and the internet has taken over our lives, of course our relationship habits have changed too.
''Traditional romantic gestures of showing our love have now been replaced by texts, Facebook updates and picture messages, which is a real shame.
''Being romanced the old fashioned way with a card or gift (or even a love note) is so much more personal than a social media status or wall post and shows that special person just how much they mean to you.
''After all, when it comes to true love, you don't want to cut corners.''
The research also found being in constant contact is indicative of a modern relationship – with the average couple texting or instant messaging each other seven times throughout the day.
Texting habits were often mentioned amid the list of true love, with 13 per cent who said they'd rather send a soppy text than buy a spontaneous gift for their partner.
Sending a text in the morning and night is the done thing if living separately, said a quarter of adults – as well as sending one more when arriving somewhere safely.
Signing greeting cards from both of you, coming home from a night out to be with them and feeling strange having the bed to yourself were all named as modern signs of a serious relationship.
And 35 per cent of couples said make-up is a factor – as women confessed they know their love is real when they don't mind being seen without it.
In a similar vein, answering the door in pyjamas or tracksuit bottoms signalled a true relationship for over a fifth of adults, and for the ladies, wearing his t-shirts to bed means real commitment.
Interestingly, the results showed independence to be important in modern love, with many who said being able to have your own bank accounts and your own friends are signs of true love.
On the computer, one in four confessed having their partner's photo as their desktop background proves they're in love, as well as using their name for online passwords.
While unsurprisingly, social media was proven to have a vital role for a modern day couple, as eight in ten confessed it's transformed the way they communicate.
The study found many look to Facebook to confirm a relationship – as a huge 63 per cent of adults said they've only found out about a friend's new partner because of their profile updates.
As well as a change in online relationship status, things are serious with a partner if they're Facebook friends with your family members, said 19 per cent of adults.
And one in ten said a committed partner would 'tag' them on social media to let their friends know they're on a date.
The spokeswoman said, ''The results show that sadly, nowadays we often rely on a text or status update to express how we feel about our partner.
But sometimes it's the real-life gestures that are the most important.''
The modern signs of true love
1. Signing greeting cards from both of you
2. Come home to them early when on a night out
3. Not wearing make-up so often/seeing her without make-up
4. Feeling strange when you have the bed to yourself
5. Updating to 'In a relationship' on Facebook
6. Knowing what to order them when getting a takeaway
7. Being in constant contact, through texts, instant messages or calls
8. Texting when arriving somewhere so they know you're safe
9. Texting goodnight/morning texts if you aren't staying together
10. Having their photo as your desktop background/phone wallpaper