Clean and healthy living at Vila Vita Parc, Algarve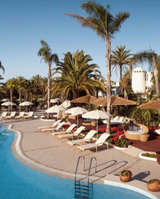 Now fully into 2015 and having initiated and maintained a healthy start to the year, our minds start to turn to thoughts of where we will holiday this summer. In a bid to stick to this clean way of living, hotels and resorts are on hand to help, by offering healthy menu options, fresh and organic produce, juice bars and Personal Trainers to build bespoke fitness programmes.
Vila Vita Parc is the Algarve's leading luxury resort, situated on a prime cliff top location and with a sustainable policy, there is plenty on offer for the health conscious guest, from organic home reared meat to olive oil, compotes, jams etc. all produced on the hotel's vineyard and farm, Herdade Dos Grous. The entire meat production process is managed by Vila Vita Parc and Herdade dos Grous, from raising the free range animals to transportation of the meat in Vila Vita Parc's own refrigerated vans to master butcher, Thomas Weber in Porches.
With Thomas's expertise he oversees the process guaranteeing quality and food safety from start to finish. The meat is then cut and processed avoiding any artificial additives or conservatives and sold at the German Butchers, the Metzgerei next door to Vila Vita Parc's Biergarten. As well as meat, the Metzgerei also sells other organic products from Herdade dos Grous, including the wine for which it is most known.
Utilising these ingredients in the resort's restaurants is the next step to ensuring a healthy holiday. As well as using the organic produce from Herdade de Grous, the culinary team have created their own healthy snacks and drinks, including homemade energy bars, vegan and gluten free dishes as well as nutrient packed juices, where the nutritional benefits for the body are listed on the menu. Working in conjunction with the healthy cuisine is the resort's Personal Trainer Sergio Tomás, who offers guidance and can build bespoke fitness programmes for guests to follow during their stay.
Although clean and healthy living is important to many of us, allowing time to indulge for one or two days whilst on holiday is also important. For the ultimate dining experience, sample the delectable gourmet dishes at the 2 Michelin starred Ocean restaurant with a menu inspired by the sea, whilst sipping on Portuguese wine produced at Herdade dos Grous.
Lead in rates at Vila Vita Parc start from € 200 per night
For bookings, visit vilavitaparc.com.