Aldi launch brand new motorcycling range for ultimate safety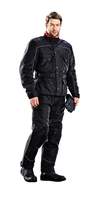 Whether you're a superbike fan, motorbike lover or moped mad enthusiast, the Aldi Specialbuys Motorcycling range is sure to get your pulse racing - in store on 8th March and available while stocks last.
When you're on the motorway and the only thing between you and the road is the protective clothing on your back, it's vital that you invest in reliable safety gear.
Key items in the range include Aldi's Men's Motorcycle Jacket (£79.99) and Men's Motorcycle Trousers (£59.99) which fulfil the highest European safety standards.
Both the jacket and trousers pass the stringent requirements for impact abrasion and impact cut resistance demanded by the EN13595-1: standard Level 2 not just in the 'highest injury risk' areas, but across the entire garments.
In addition, the garments exceed the requirement for impact abrasion (seven seconds), achieving over 13 seconds of abrasion resistance across ALL zones of the garment.
Ensure that your hands are protected with these Motorcycle Gloves (£19.99). They feature carbon fibre knuckle, finger and thumb protection, as well as a high quality cowhide leather outer shell, DuPont Kevlar palms and a warm Thinsulate lining.

Complete the look with a pair of Aldi's Touring Boots (£29.99) which have a slip resistant sole for reliable pedal grip. Wear these boots with a pair of Motorcycle Socks (£3.59), available in a variety of tasteful colour combinations, to ensure that your feet are both comfortable and warm every time you ride.
Make sure you stay warm and dry when venturing out in the winter months by layering up in Aldi's Motorcycle Wind Protection Base Layer (£9.99), Multi-Function Neck Warmer (£2.99) and Motorcycle Rain Jacket and Trousers (£17.99 each).
Carry essentials such as this sturdy Motorcycle Lock (£8.99) in Aldi's Motorcycle Tank Bag (£12.99) which boasts a sizeable main compartment with a 2-way zipped opening, an anti-slip bottom and strong magnets to keep it secure to your bike.
With a whole host of clothing and gear ranging from Motorcycle Wind Protection Accessories (£4.99) and Motorcycle Compression Base Layers (£9.99) to Motorcycle Covers (£8.99) and Motorcycle Hi-Vis Vests (£12.99), you'll be spoilt for choice at Aldi this March.
John Chatterton-Ross, Director of Public Affairs, Fédération Internationale de Motocyclisme (FIM) comments ;"This is the first time I've seen a UK retailer selling a motorcycling jacket and trousers of this high standard at such low prices.
The protection offered by Aldi's products exceeds the requirements for impact abrasion and impact cut resistance demanded by the EN13595-1:2002 European standard for zones 1 and 2 in ALL zones. Few products on the market can match this. Often, even in premium brands, it is only the protectors that are certified, not the rest of the garment.
FIM worked with CEN, the European standards organisation over the many years it took to establish these standards for rider safety. It is great to see that with Aldi's motorcycling jacket and trousers, safety does not have to come with a high price tag."
Aldi's Specialbuys Motorcycle range goes into stores nationwide on the 8th March but you'll have to be quick because once it's gone, it's gone!