The Spanish yacht charter market is back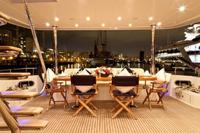 "The crisis is over and the Spanish yacht charter market is back." These are the words of Lorenzo Vila, Director of 25-year-established easyboats, the first motoryacht charter company in Mallorca.

"Charter enquiries are flooding in this year," says Lorenzo. "Not only are they unprecedented in number but they're also coming in, and closing, far earlier in the season than usual. Previously people waited until the last minute to book a boat, monitoring their financial situation and hoping to get a late deal - 2015 is different. We've signed contracts on several charters, mainly in the 45ft to 60ft sector, and some for as early as Easter."
"easyboats is also handling many more leads for larger boats and, thanks to the elimination of matriculation tax and a lifting of restrictions on non-EU-flagged vessels to charter in Spain, we have plenty more superyachts to offer – including those licensed for parties of up to 36 guests. Our portfolio has also increased due to a law change which now permits private use of a business asset, provided the owner pays VAT according to market charter rate. This makes it more attractive, and viable, for our boat owners to secure additional income through charter."
"Exchange rates are also affecting the make-up of enquiries," continues Lorenzo. "The pound is at its strongest level versus the euro for seven years, the Swiss franc has risen dramatically, as has the Swedish krona. These nationalities are picking up a bargain charter in the best cruising ground in Spain – possibly the western Mediterranean. It's shaping up to be a very rewarding season for easyboats."
It's not just charter that is keeping easyboats on its toes so far in 2015. By mid-January the Company had already closed its first brokerage sale of the year, a Princess 52, and this month it completed a six-figure interior-exterior refit on a Mangusta 80. "Due to the volume of work we're looking to expand the business – it's a nice problem to have", concludes Lorenzo.
Last year saw the first growth in Spain's recreational boat market since 2007. Following six years of decline, 2014 closed with a 9.92% increase in registrations over the previous year. Charter boat registrations represented the biggest leap, up a vast 56.72% over the previous year (373 boats versus 238) which is not only a direct reaction to the elimination of 12% matriculation tax for charter yachts but also a reflection of general industry feeling that Spanish yachting has emerged from the economic downturn.
Four For Charter:
Chris Craft 28 – Stylish, fast, comfortable and versatile, this Chris Craft 28 is the ideal day boat. With plenty of sunbathing space and watersports gear, she can access the shallowest of waters with ease. Up to seven guests. From 950 euros/day.
Riva Rivale 52 – The only one available in Mallorca, this made-in-Italy beauty is ideal for those looking for a touch of elegance and style. Super fast, up to 40 knots, she also has a jet RIB for waterskiing and wakeboarding. Up to eight guests. From 3,000 euros/day.
Monte Fino 78 – A substantial luxury yacht perfect for large families or groups of friends. Four cabins, all with TV and sound systems, and a BBQ, fridge and sunbathing area up on the flybridge. With tender and jetski. Up to ten guests. From 4,500 euros/day.
Versilcraft 100 – New to Mallorca for 2015, this vast 31-metre superyacht is licensed for a mega 36 guests a day. This opens endless doors for corporate entertainment, special family celebrations, and showing off at Nikki Beach. From 14,400 euros/day.
For further information on yacht charter, sales and management, visit easyboats.com,