Ford builds 5 millionth EcoBoost engine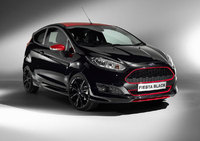 Ford is celebrating a manufacturing milestone for its fuel-saving EcoBoost petrol engines: five million have been produced globally since the engine line was launched in 2009.
First introduced in Europe in 2010, EcoBoost-equipped vehicles last year accounted for one in four new Ford vehicles sold in the region. The most popular was the 1.0-litre EcoBoost, which in 2014 also was the first engine to be named as International Engine of the Year for three times in a row.
More than 230,000 Ford vehicles sold in Europe were equipped with the 1.0-litre engine that is now available in 10 different models – from Fiesta to the all-new Mondeo.
"Ford EcoBoost delivers great performance with lower fuel bills, a recipe which is proving incredibly popular with consumers in Europe and around the world," said Joe Bakaj, vice president, Product Development, Ford of Europe. "EcoBoost engines have proved a game-changing technology that are attracting new customers to the Ford brand every day."
Downsized EcoBoost engines combine surprising power with excellent fuel efficiency through direct fuel injection, turbocharging, and variable valve timing. Available in Europe in the Fiesta Red and Black Edition models since last year, Ford's 140 PS 1.0-litre EcoBoost is the most powerful 1.0-litre volume production car engine ever. EcoBoost technology also powers the all-new Ford Mustang – the new 314 PS 2.3-litre EcoBoost engine accounted for half of all models configured online during Mustang's first month available to order across Europe.
The 5-millionth vehicle was a 1.0-litre Ford Focus that rolled off the assembly line at the Michigan Assembly Plant, in the United States. Worldwide, every month, more than 200,000 EcoBoost engines are produced – including 1.5-litre, 1.6-litre, 2.0-litre and 2.3-litre four-cylinder engines, and 2.7-litre and 3.5-litre V6 engines. The Ford Bridgend plant in Wales in the UK produces 1.5- and 1.6-litre EcoBoost engines.
This most recent production milestone constitutes another step forward in the One Ford plan to drive innovation across the company's global product portfolio, and continues to deliver on Ford's commitment in its Blueprint for Sustainability.