Meteor showers in Morocco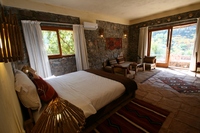 Following the massive anti-climax of the cloud-covered eclipse over Britain recently, why not head for the Atlas Mountains of Morocco, and enjoy the annual meteor showers that are seen in the crystal clear skies from the comfort of Kasbah Africa?
The showers are caused by streams of cosmic debris called meteoroids, when they enter the earth's atmosphere at extremely high speeds, on parallel trajectories.
The majority of meteors are smaller than a grain of sand, so most of them disintegrate and never hit the Earth's surface but intense or unusual meteor showers – known as meteor storms – may produce greater than 1,000 meteors an hour.
They get their name from their apparent origin, the constellation of Perseus and are associated with the Swift-Tuttle comet which is a periodic comet with an orbital period of 133 years.
It was independently discovered by Lewis Swift on July 16, 1862 and by Horace Parnell Tuttle on July 19, 1862. It has a well-determined orbit and has a comet nucleus of 26 km in diameter.
The nights of August 12th to 13th is the culminating point of this cosmic rain and the Atlas Mountains of Morocco, with zero light pollution and clear skies, are the perfect place to observe it; Kasbah Africa is the perfect place to stay.
The recently renovated, British owned, nature lodge has just eight suites and is located in the Ouirgane region of Toubkal National Park with views over the Azzaden River Valley from its elevated position.
Rooms have wood-burning fires plus a telescope and binoculars so that budding Brian Cox's can enjoy the amazing display of stars.
A three night break in August costs from £261 pp (two sharing a room) which includes three nights' full board accommodation plus a choice of either a guided walk or a 'Cooking with Berbers' experience.
The price also includes return transfers from Marrakech airport (approx. 1 hour each way). Flights extra (approx. £190 return).
For more information, visit kasbahafrica.com.