Poinciana Parkway on the road to early completion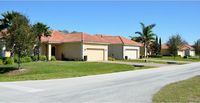 Work on the Poinciana Parkway in Central Florida is ahead of schedule and could be finished by the end of 2016, say highway chiefs.
The $150million, 9.6-mile toll road that will link Poinciana, between Haines City and Kissimmee, to the main I-4 corridor, is around half a year ahead of its projected May 2017 finish, according to data from the Osceola County Expressway Authority.
At the end of February, the road was 43.5% complete, the March Poinciana Parkway Progress Report reveals. So far, around $33million, almost half of the initial $68.78million budget, has been spent on the project, which started in December 2014, and is consistent with estimates.
Poinciana Parkway is the first part of a long-term scheme for a belt-way around South Osceola County that links the I-4, US-192, Osceola Parkway and Florida's Turnpike.
Poinciana is the location for Feltrim Group's new waterside gated community, Tuscany Preserve at Lake Marion, which provides top-quality vacation homes and investment properties.
The development by beautiful Lake Marion features 500 three and four-bed townhomes and two-bedroom villas, plus a superb choice of amenities, including a clubhouse with a fitness center and swimming pool, tennis courts, basketball courts, and a children's play area.
Feltrim Group, Chief Executive Officer, Garrett Kenny says, "With the roadworks months ahead of schedule, the opening of Poinciana Parkway and the improvement it will make to travelling time in the area will be with us much sooner than expected.
"We are seeing strong demand for Tuscany Preserve at Lake Marion property, will only improve further as the road nears completion.
"Poinciana is also planned to be the site of the terminus of the new SunRail station, which is also set to be completed in 2016 and provide a quick and convenient link to Orlando, so the area is all ready to receive two major transportation upgrades in the same year."
The work on Poinciana Parkway, which will cross wetland and forest, is being carried out by Kissimmee-based Jr. Davis Construction and UIG Poinciana Parkway LLC. The tolls are expected to start at around $1.75.
In 2000, the population of Poinciana was just 13,647, according to figures from the US Census Bureau, but by 2014 the total had reached 54,442, making the area one of the fastest-growing in Central Florida.