Dip your paddle into Yukon's wild rivers and lakes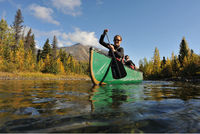 The Yukon is a mecca for paddling enthusiasts. Whether you canoe, kayak or raft, you'll find the perfect water adventure on one of our 70 wilderness rivers and countless scenic lakes all in an outstanding wilderness setting.
Canoeing and Kayaking
Choose among mellow classics like the Big Salmon, the Teslin, or the fabled Yukon River that combine scenery, wildlife viewing, history, fishing and friendly rapids. Exhilarating rivers like the Snake, Bonnet Plume and Wind flow through one of the most remote regions of North America; whilst the Alsek and Tatshenshini rivers course through Yukon's Kluane National Park and B.C.'s Tatshenshini-Alsek Provincial Park past calving glaciers and inspiring mountain scenery. With several must-do rivers among the international paddling set, and four designated Canadian Heritage Rivers, water adventurers make the pilgrimage to the Yukon for once-in-a-lifetime wilderness paddling experiences. For flatwater enthusiasts, experience roadside gems including Kathleen, Fox, Tagish, Five Mile, Frances, Frenchman and Chapman lakes.
Rafting
Our Yukon whitewater rafting companies combine scenery, adrenalin and culinary magic to create a unique paddling adventure in Canada's North. Start dreaming about a rafting journey down the Alsek, Tatshenshini or Firth rivers. Go home with once-in-a-lifetime sights like calving glaciers and caribou crossing the river etched in your memory.
Equipment Rentals
Yukon's outdoor equipment and vehicle rental companies are well-outfitted with top quality camping equipment, gear and vehicles. Whether you want to rent a camp stove, a canoe, or a 30-foot RV with a full kitchen, you'll be able to find what you need here in the Yukon. Vehicles rentals are available only in Whitehorse.
Visitors can join a multi-day canoe, kayak or rafting trip on a remote wilderness river. They will enjoy hiking, fishing and photography, and expect to see wildlife like bears and moose. Camped under Yukon's glorious midnight sun with scrumptious riverside cuisine, knowledgeable guides and spectacular scenery will make it a trip of a lifetime.
Yukon River Quest
If that all sounds a little too energetic then there's always the option to just come and watch others do it during the annual Yukon River Quest- a 444-mile wilderness adventure paddling race held on the Yukon River from Whitehorse to Dawson City. Taking place during the last week of June (24-28 June, 2015), the Yukon River Quest is the world's longest annual canoe and kayak race, and known as the "Race to the Midnight Sun," as paddlers race round-the-clock under a sky that never gets dark. There are currently more than 60 teams registered for the 2015 race with paddlers from twelve countries including the United Kingdom. yukonriverquest.com
Wildlife Wolrdwide offer an 8-day "Canoeing the Yukon River" package to the Yukon. For more information, visit wildlifeworldwide.com.
Frontier Canada offer a 20-day "Yukon River Classic Canoe Trip" package to the Yukon. For more information, visit frontier-canada.co.uk.
Windows On The Wild offer a 12-day "Rafting on the Tatshenshini River" package to the Yukon. For more information, visit windowsonthewild.com.