Active family holidays in the Austrian Tirol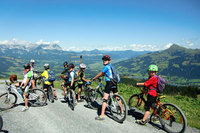 With May half-term done and dusted, the next big holiday to plan is the long summer school break. Rather than playing it safe and going for the usual beach holiday, break the mould and look at an active family holiday, a sure way to create some lasting family memories. Here are 5 ideas from the Tirol Tourist Board, including staying on a farm, a youth mountain bike camp and a long distance hiking trail.
Farm Holidays in Tirol
Children today seem to have less opportunity to explore life for themselves than previous generations. Children love to be outdoors, interacting with nature in their own way. A holiday on the farm allows children to be hands-on during their stay, whether it is tending to the animals, collecting eggs for breakfast, picking berries, taking a tractor ride with Farmer Pepi or enjoying a pony ride. The Kinderbauernhof Albeineler is located in the Pitztal Valley and is home to 'Mayka', a Haflinger horse, three ponies, two dwarf goats as well as guinea pigs, rabbits, cats and chickens.
Children staying in the Pitztal are able to join the Pitzi Kid's Club (ages 4 – 14), operated by the Alpincenter Hochzeiger Pitztal and available to holders of the Pitztal Guest Card. Younger children can join the treasure hunts and hide and seek games, whilst older children can have a go at rafting, climbing or archery.
A 7 night stay at the Albeineler farm, starts from €623 (£452) for the week in the Königskerze 2 bedroom apartment. To book, visit bauernhof-pitztal.at/en/. Flights with easyjet.com from London Gatwick to Innsbruck.
Long distance hiking trails……with children
The sheer thought of a long distance hiking trail with children would send most parents literally running for the hills. Even a trip to the local shops can feel like a strenuous hike some days. The Lechweg (Lech River Trail) in the Austrian Tirol is not specifically classified as a family trail but it is possible to do with children and most sections are even accessible with an all-terrain buggy.
The full Lechweg covers a distance of 125km across 15 trail stages, connecting three regions and two countries, starting in the Arlberg region, before heading through the Tirol Lech-Reutte nature park and finally reaching Germany's southern Allgau region. It makes sense for families to book a basecamp and take full advantage of the hiker's shuttle bus to start at a new trailhead each morning. Tracing the route of the River Lech makes for plenty of interesting rest stops, such as the natural swimming pond in Vorderhornbach, the historic Ehrenberg Castle or crossing the Holzgau suspension bridge 110m off the ground. For more information about the Lech River Trail visit lechweg.com/en.
Stay at the 4* Ferienschlössl Harmonie (harmonie-lechtal.at) in an apartment, with prices starting from €86 (£62) per night for an apartment that sleeps 2-4. Babies and toddlers up to the age of 3 stay for free, cot and highchairs are available. Flights with easyjet.com from London Gatwick to Innsbruck.
Youth Mountain Bike Camp
Learning to ride a bike is a milestone in every child's life and once those skills are learnt the unstructured play it provides inspires young ones to explore and appreciate the natural world. In July and August, the Kurt Exenberger Bike Academy offers a 4 day junior mountain bike camp for children aged between 7-14 years to explore the beauty of the Kitzbühler Alps. Under the careful and patient instruction of the highly-trained riders, the children will gain solid bike riding skills with technical training, single trail tour, downhill and a session in the Bike Park. Whilst the children are enjoying themselves, parents can enjoy some well-deserved holiday time walking or cycling around the Kitzbühler Alps.
Stay at the 4* Hotel Braeuwirt in Kirchberg (hotel-braeuwirt.at) with prices starting from €525 (£377) per adult and from €529 (£380) for per child (aged 7-11) or from €599 (£431) per child (aged 12 -14 years old), when sharing a family room. Prices include 7 night's accommodation on half board and for children includes the 4 day KitzAlpBike Junior Camp including lift ticket and lunch service and food. Children must be able to ride a bike to a competent level. For further information, visit bikeacademy.com. Flights with easyjet.com from London Gatwick to Innsbruck.
Kinderhotel – perfect combination for a family holiday
Have you ever thought of staying in a Kinderhotel? A holiday here is as much about the parents as it is the children and is well worthy of its family friendly status. The 4* Kinderhotel Almhof Gerlos in the Zillertal is part of the Kinderhotel group and in summer offers an engaging activity programme for all. Babies and toddlers up to 3 are welcomed at the bambini club, for children aged 3-7 they will head out into the forest, build a dam or go pony riding, whilst older children can have a go at rafting, canyoning or mountain biking. A family that plays together, stays together and that's why the guided walking programme also includes 2 family walks, as well as 3 guided tours for parents only. Adults are also able to channel their energy mountain biking, horse riding, trail running, climbing or playing golf and if that leaves them feeling exhausted they may just want a few hours in the wellness spa. Within the hotel grounds there are indoor and outdoor pools with water slides, softplay, cinema, tennis courts and sandpits.
Stay in a family room at the Kinderhotel Almhof Gerlos with prices starting from €903 (£656) per adult per week and from €266-€434 (£193 - £315) per child (depending on the age of the child 0-15). Prices include all inclusive board, up to 84 hours of childcare/activity programme during the week, access to indoor and outdoor pools, hiking and wellness programme for parents and much more. To book, visit kinderhotel-almhof.at. Flights with easyjet.com from London Gatwick to Innsbruck.
Raise a smile from teenagers at AREA47
As children move into their teens they become more reluctant to holiday with their parents but a short break to Area47 is guaranteed to raise a smile on their face. Located at the entrance to the ?tztal, Area 47 opened five years ago and has become one of the most unique outdoor adventure parks in Europe, offering the ultimate in climbing, canyoning, rafting, watersports and more. A 5 day action package includes testing your balance 30m above ground on the high rope course, enrolling in rafting college on the River Inn or heading deeper underground canyoning, there's acrobatic action swinging across the Ötztaler Ache on the 'Megaswing' or flying 400m across Area 47 on the Flying Fox as well as access to the water area, which has a giant waterslide park, a 27 m high diving tower and a 15m water ramp for tubing.
A 4 night stay at Area47 on B&B, staying in a wooden tepee, starts from €299 (£217) per person and includes the 5 day action programme. To book visit area47. Flights with easyjet.com from London Gatwick to Innsbruck.
For more information on the Tirol region visittirol.co.uk or keep updated at facebook.com/visittirol or @VisitTirol on twitter