Adventure travel climbs in popularity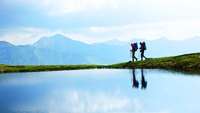 Gone are the days that an action filled family holiday would mean packing up and heading to Eastbourne for a long weekend, as new research reveals that just 11% are opting for a caravan holiday and only 6% are planning a camping trip. Mountaineering, mountain biking and canoeing are now fast becoming the most popular activities for British families.
The rise of adventure travel has been widely discussed and figures from Adventure Travel Trade Association (ATTA) shows families opting for activity filled holidays in exotic destinations increased by a staggering 65% in 4 years, since 2009.
Tourism boards have also spotted this increase and 80% now consider adventure travel a standalone sector – compared to just 40% as little as eight years ago, with it's estimated worth now $263bn in the US and Europe alone.
The research conducted on behalf of Pyramid Travel Products highlights the thrill that we Brits now get from incorporating activities such as mountain biking and canoeing into our yearly trip. Around a quarter (22%) of respondents said that in the past 10 years they have been to an exotic country to try a new activity like bungee jumping, rafting, or paragliding – emphasising how holiday makers are now looking for something more exhilarating. Countries such as Austria, Botswana and Cuba are just some of the best destinations for adventure travellers this year.
The new trend of adventure holidays means people have to pay more attention to protecting themselves and young children in exotic locations. Despite this, almost 8 in 10 (78%) aren't aware of how to protect their family from being bitten when venturing to these locations. Nearly 9 in 10 (86%) don't know how to protect themselves and their families against ticks and 8 in 10 (79%) don't know how they can protect themselves and children against midges, despite the increased risk that they face.
Nicola Cameron of Pyramid Travel Products said: "With families travelling to increasingly exotic and far flung destinations it is essential they prepare properly to keep safe. All you need is a good repellent and a mosquito net, if in a malarial country. Together these will prevent the majority of bites leaving you to relax and enjoy your holiday. For specific health advice for your holiday use the Your Trip planner on our website."
Because of this as little as 24% take the necessary health precautions in order to keep their family from being bitten. And as little as a third (30%) see insect repellent as essential in their suitcase.
For more information, visit pyramidtravelproducts.co.uk.