Running tours offer new way to discover London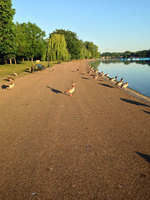 Run Around London has launched a series of early-morning running tours across central London designed for keen runners or anyone interested in discovering the city as it wakes up in the morning light.
Various runs will take place during week days from June 29th until August 28th. The runs all start at 6:30am and last one hour, covering a distance between 5 and 10k. Each run costs £8.
Led by licensed Run England group leader Gary Hawke, each run offers a new theme and an educational, fun, entertaining experience like no other.
A variety of themes are explore through a number of itineraries:
City of London route, unveiling the gems of the Square Mile
Historical London route, a circuit encompassing London's iconic landmarks
Royal London and Parks route, a pinball course between royal buildings through London's luscious green spaces; and
3 River routes, exploring different sections of the Thames
With a unique vantage point on touring and running, Run Around London presents a new way to see the city and enjoy a fun run, with the possibility of meeting new people. The runs can be catered towards any abilities.
Information about booking a run can be found at runaroundlondon.com.