From spinal trauma to Kilimanjaro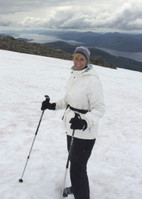 Gillian Fowler, an inspirational Aberdeen woman who had to learn to walk again after breaking her back, is encouraging injury survivors to undertake life-changing challenges by starting a specialist travel company, BackStrong Adventures, aimed at encouraging people to overcome their injuries and fears to undertake physical and mental challenges.
Working in partnership with specialist adventure tour operator Chameleon Worldwide, to give ATOL and ABTA protection, BackStrong Adventures offers outdoors challenges to people who want to create a long-lasting memory, and specialise in helping those who have experienced trauma, injuries, loss, disability, disease or any other life-changing ailment.
Challenges offered include Sea Kayaking in Croatia, the Inca Trail in Peru, Annapurna Sanctuary Lodge trek in Nepal, the Accused Mountains of Albania and Cycle Bangkok to Saigon. All adventures are graded for difficulty, with a complete dossier available on each adventure, giving full details of all physical requirements, rests, accommodation etc.
Gillian, who was left temporarily paralysed after a horse-riding accident in 2008, has always been a lover of the outdoor life, spending her time skiing, golfing, hillwalking and horse-riding before the accident which changed her life instantly.
She has no memory of falling off the horse, but does remember the excruciating pain as she lay on the ground and knew straight away that she was badly injured.
In hospital, Gillian was terrified as the doctor clasped her hands together, telling her to listen carefully, explaining that she had broken her back and perhaps her neck.
Her neck was finally given the all clear but Gillian needed surgery to stabilise her back. Afterwards she was left with nerve damage resulting in no feeling on her right side, and was fitted with a back brace after a number of weeks. It was almost two months before she was able to walk again.
Gillian's recovery has been a long and painful process, with seven surgeries, regular spinal injections and years of physiotherapy.
She found that the only way to cope with her 'invisible disability' was to keep busy – and she started to plan new challenges. Last year, just months after a spinal surgery, she climbed Ben Nevis, and then other peaks including Lochnagar.
This year, she is heading to Croatia to take part in a kayaking adventure as well as plans to hike Toukbal in the Atlas Mountains in Morocco. Gillian will also climb Kilimanjaro in February with her surgeon, physio and other group members to raise awareness of spinal injuries, with a further trek planned in Nepal in April 2016 to raise funds for charity Funding Neuro.
Gillian fervently believes that remaining positive, exercise and challenging yourself are vital to good recovery from severe injuries such as hers. She is also determined that something good will come out of her accident. As such, she has founded BackStrong Adventures, which will offer life-changing challenges to people who want to push themselves but feel they have an injury or psychological issue which might prevent them from doing so.
Gillian said: "As someone who lives with pain, I understand the challenges – both physical and mental – which prevent people who have been injured from achieving their goals. At BackStrong Adventures, I will help my clients to prepare for challenges, ensuring that their adventure is stress-free by working with individual limitations before and during a trip. From something as simple as help with luggage at an airport, arranging extra assistance to help carry items during a trek, or a support bus travelling alongside a cycle route, I will work closely with my clients to ensure they can achieve their goals with confidence.
"My own journey from being temporarily paralysed to trekking some of the highest peaks in the world has helped me to understand that most hurdles can be overcome – and an exciting life can follow."
Issued by Frasermedia Ltd on behalf of BackStrong Adventures.