Local primary school pupils name the roads at new development in Buckinghamshire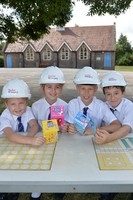 Four pupils from a Buckinghamshire primary school have named the roads in a new Taylor Wimpey development in their village.
The pupils from Aston Clinton School suggested names for The Chilterns development in Aston Clinton, near Aylesbury, by taking their inspiration from local history.
Each child who put forward a name which was chosen received a £25 book voucher from Taylor Wimpey.
The new development's road names will be Round House Road, Flora Avenue, Estone Road and Vantage Street.
Ella, aged 11, said she chose Round House Road because 'we saw post holes from a round house when we visited the site', while James, aged 9, chose Flora Avenue because 'Flora is the Roman goddess of flowers'.
Jayden, aged 9, explained that he chose the name Estone Road after he discovered that 'in the Domesday book of 1086, Aston Clinton was known as Estone'.
And finally Evan, aged 6, named Vantage Street after a car. "It's after an Aston Martin car," he said. "Aston Martin took one part of its name from our village."
Aston Clinton Parish Councillor Jean Savigar said: "Normally the parish council would help decide road names, but there was an archaeological dig on the site with Romano-British remains which the children had been taken round.
"The parish council decided it would be a good idea to let the children decide, as they were involved in the site already as part of their school curriculum."
Gareth Jacob, Regional Sales and Marketing Director for Taylor Wimpey, said: "We are delighted to have some excellent names for the roads on our new development, and would like to thank all the Aston Clinton School pupils who took part in this competition.
"The standard of names was very high, and we had real trouble selecting the final four because the children worked so hard on giving us a terrific selection, all of which we could have used.
"Having said that, we are very pleased with the names chosen, which all reflect some aspect of Aston Clinton's fascinating history."
There's a superb selection of four and five-bedroom Taylor Wimpey homes now on sale from £760,000 at The Chilterns.
To find out more, property-seekers can call the Sales Executive on 01296 321819, to arrange a visit to the development, located off Stablebridge Road, Aston Clinton, HP22 5ND.
Information on all Taylor Wimpey developments across the region is available by visiting taylorwimpey.co.uk.