Mad about the bike: Sales of bicycle accessories outstrip sales of bikes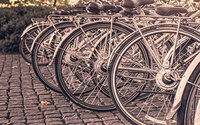 It all starts with the bike, but for some, before very long this will be swiftly followed by skin tight shorts, gloves, sunglasses and a whole host of other must have gadgets. Indeed, new research from Mintel finds for many cycling loving Brits, the bike is simply the tip of the iceberg as today's cyclists are splashing out more on the accessories than bikes themselves.
Indeed, the UK market for bicycle accessories, or 'PACs' (which Mintel defines as including bicycle parts, accessories and clothing) was valued at £1.25 billion in 2014, running rings around the £956 million Brits spent on bikes in the same year.
What's more, while sales of bikes are set to top the £1 billion mark by the end of this year, Brits will spend an even more impressive £1.35 billion on PACs. Over the past five years, sales of PACs have outstripped that of the bicycles market, increasing 28% between 2010 and 2014. Meanwhile, bicycle sales have increased 23% over the same five year period. This year, the average spend on PACs among all 15.8 million cyclists is set to reach £79, while the average spend among the 11.85 million cyclists who ride once a month or more often will reach a wheel spinning £106.
While MAMILs – middle-aged men in Lycra – still rule the roads, there are an increasing number of women now taking to the saddle. Overall, over a third (36%) of Brits ride a bicycle rising to four in ten males (41%), compared to 31% of females, but the number of women taking to two wheels is gaining speed. In 2014, just over a quarter (26%) of women were cyclists. Meanwhile, one in twenty (5%) Brits ride every day, a fifth (21%) mainly cycle at the weekend and some 13% cycle to their place of education or workplace most days.
Michael Oliver, Senior Leisure and Media Analyst at Mintel, said: "Cycling is no longer regarded simply as a cheap means of transport, a bicycle is now regarded as a lifestyle accessory, an expression of an individual in the same way as driving a premium sports car or belonging to a golf club. This is positive news for accessory suppliers, because it means that many of their potential customers are not buying on price alone, instead brand, quality and product features are also key factors influencing purchase. Ahead, the prospects for the market look extremely positive, given the expected easing of pressure on household incomes and the expectation of further growth in cycling participation levels."
Amongst current cyclists, lights (27%) and locks (26%) are the most popular bicycle accessory to have been bought in the past year. These are followed by puncture repair kits (23%), water bottles (22%) and spanner or multi-tools (13%). While more specialist accessories such as cycle computers and GPS's were purchased by one in ten (11%) cyclists, this rose to a fifth (21%) of frequent cyclists who ride most days or at least 2-3 days per week. The same was true of action or helmet cameras which were purchased by 8% of all cyclists, but twice as many (16%) frequent cyclists.
In terms of clothing, the top five purchases amongst current cyclists are: cycling helmets (22%), hi-vis jackets (18%), cycling gloves (18%), cycling shoes (13%) and cycling longs or leggings (13%). Again, purchase rises considerably amongst most frequent cyclists with almost twice as many of these cyclists buying cycling shoes (25%) and cycling gloves (33%).
And for parts, inner tubes (32%), tyres (30%), brake blocks (19%), chains (21%) and saddles (15%) make up the top five purchases for current riders. Around a quarter (26%) of those who have bought PACs in the past year say they mostly buy them from a physical store, while one in five (18%) say they mostly buy online.
Mintel's research also shows that some 15% of currents cyclists have had their bicycle stolen in the past, with those living in urban locations most likely to have been the victims of bicycle theft. As many as one in ten (9%) current cyclists have been knocked off their bicycle by another vehicle in the past year, rising to 15% in London. Despite this, less than four in ten (38%) current cyclists usually wear a helmet when they cycle. Female cyclists (43%) are more likely than male cyclists (34%) to use helmets. Meanwhile, less than a quarter (23%) of current cyclists usually wear high visibility clothing when they cycle.
"Fewer than half of all cyclists wear a helmet, despite cycling safety having been in the news so much in recent years as a result of a number of high-profile fatal accidents. Indeed, nearly one in 10 cyclists have been knocked off of their bicycle by another vehicle in the past, underlining the case for cyclists to wear helmets and also to take whatever precautions they can by wearing hi-vis clothing and using lights to make themselves as visible as possible when riding." Michael concludes.