The UK's first true zero carbon development of its size launches in Bicester, Oxfordshire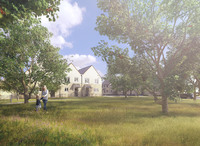 Elmsbrook, the first true zero carbon residential development of its size in the UK has now launched. FABRICA by A2Dominion will deliver the pioneering properties, which are part of the wider North West Bicester (NW Bicester) Masterplan in Oxfordshire.
With the Masterplan Designed by Farrells, a UK architecture practice with an international reputation for placemaking as well as cutting edge work on sustainability, Elmsbrook is one of 10 worldwide recipients to be recognised with Bioregional's One Planet Living status, an unprecedented standard of eco efficiency and sustainable living.
Each of the 393 true zero carbon homes, built with zero waste to landfill during construction, will be developed responsibly with a 30% reduction in carbon used compared with a typical build process. A mechanism for harvesting rainwater will come as standard, and has been designed to reduce water use to 80 litres per person, per day. The development includes one of the largest assemblies of solar panels in the UK, amounting to 17,500 square meters arranged across the roofs of the homes, which will contribute towards reducing the energy bill of each Elmsbrook property.
Real time energy use and costs, and real-time bus travel updates will be displayed in every home via a tablet home information system. Known as the Shimmy, it will act as a communication portal for the community.
Elmsbrook aims to deliver a valuable and sustainable community that supports and enhances the town of Bicester, providing a range of facilities aimed at all ages, including a new primary school, nursery, community hall, local shops, cafés, eco pub and eco-business centre providing accommodation for start-up businesses.
The wider NW Bicester project will encompass up to 6,000 highly energy efficient new homes in total, with over 40% of land allocated to green space, and with a network of sustainable wildlife corridors running through them. Elmsbrook residents will also enjoy a communal orchard, fruit bearing plants, herb boxes in the streets, allotments and children's play areas. A fruit tree will be planted in the garden of every home.
To reduce car use, each property will be located within 400m of a bus stop, and the bus service will be in operation from the arrival of the first residents to encourage sustainable travel from the outset. A network of cycle paths will connect Elmsbrook residents internally, across the wider NW Bicester development and provide connectivity to the Town. Elmsbrook will include an electric car club which, along with a new designated bus service, has been created to encourage energy efficient modes of travel. Each home has the capacity to install an electric car charging point.
Rosie Nesbitt, Group Director Sales and Marketing at FABRICA, comments: "Elmsbrook will be convincing proof that sustainable living doesn't mean sacrificing comfort. We are creating a sustainable lifestyle here, which we hope will change perceptions and become the benchmark for future developments across the country.
"Residents will not only have highly efficient, well designed homes, but also all the benefits of thoughtfully conceived green spaces and excellent transport connections, and all the necessary infrastructure to cultivate a thriving community. This will become one of the UK's most appealing places to live."
Sir Terry Farrell, Partner at Farrells – the architects behind the Masterplan, comments: "With Elmsbrook, we are anticipating the future of house building. The technology that we are implementing might appear cutting edge today, but eventually this will become the norm and we anticipate that everyone will be living eco consciously. However, zero carbon living doesn't equate to sacrificing life's comforts; each property will be equipped with superfast broadband, high insulation, triple glazing, as well as the extensive eco credentials."
Despite the appealing rural setting, Elmsbrook is well connected to London and the national transport network. Trains connect commuters to the capital in just 50 minutes, while Oxford is a 20 minute drive away. Closer to home, residents will be within 2 miles of the prestigious Bicester Retail Outlet Village.
Construction of Elmsbrook began in April 2014 and the first residents will be able to move into their new homes from the end of 2015. Elmsbrook will have 30% allocated to affordable rent and shared ownership.
Prices at Elmsbrook start from £295,000. For further information on Elmsbrook, visit Elmsbrook.co.uk.