Wireless surround sound made simple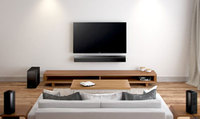 Sony's latest Sound Bar treats you to an authentic home cinema experience– with room-filling audio from six separate speakers, cool online music services and fewer untidy cables.
The space-saving HT-RT5 brings something really special to movie nights, fun-filled parties and everyday listening around the home. There's an awesome 550W of dynamic multi-channel power on tap: you'll hear – and feel – each orchestral crescendo and the crunch of every explosion.
A choice of sound modes tailors your listening to whatever's on screen. Football Mode captures the acoustics of the Morumbi Stadium in Brazil; 9.1ch Cinema Studio transports you to the famous Cary Grant Theatre at Sony Pictures Studios in LA; and Digital Music Arena recreates the expansive live acoustics of London's O2 Arena.
The slim, stylish 3-channel Sound Bar fits discreetly in front your TV or can be wall mounted. The main unit includes a dedicated centre speaker assuring crystal clear dialogue and transparent treble, whatever the volume. It's combined with two wireless rear speakers plus a separate wireless subwoofer. Set-up's wonderfully easy: each additional speaker connects automatically, with no loudspeaker cables needed. The system even comes supplied with a microphone to test your room's acoustics using Digital Cinema Auto Calibration DX ensuring the best possible sound wherever the speakers are placed. You're rewarded with 5.1 channels of immersive audio, with solid bass that draws you in to the heart of the action. Today's high-quality listening formats are naturally catered for, with support for HD Audio sources like DTS-HD and Dolby True HD.
Pristine movie soundtracks are only the start with the HT-RT5. There's a huge choice of online musical entertainment to enjoy, with Spotify Connect and over 100 other music services including Deezer and Google Play. Google Cast makes it easy to 'cast' online music and radio services seamlessly from your mobile device. Just touch the Cast icon and playback is transferred seamlessly from your smartphone or tablet to the Sound Bar for everyone to enjoy.
One-touch listening via NFC lets you stream crystal-clear sound using Bluetooth® with soaring highs and full, rich bass with a single touch of your smartphone or tablet. LDAC technology from Sony transmits three times more audio data than typical Bluetooth® connections, for super-clear, detailed sound you'll love.
Wireless Multi-room listening brings you music wherever and whenever you want to around the home. Use your phone or tablet to control playback with our friendly SongPal app. It's easy to group the HT-RT5 with other compatible wireless speakers and hi-fi systems around the house. You'll instantly hear the same sounds everywhere at once – great for entertaining a house full of party guests with your favourite Spotify playlist.